There is so much to do to get a house ready for renting out seasonally. Frank and I are going back down to Chincoteague this weekend and I've been shopping and sorting and stockpiling up what we need to transport down with us.
Lately I've been totally working on framing the art for the walls in the bedrooms. The walls are presently festooned with kitschy and strange craft items that was supposed to fit together into a theme. I find it rather bizarre.
Jordan took down a lot of the items in the room he slept in over Christmas- they bothered him- hanging over his head in a threatening manner.
This is the children's room- the shelf over the bed held old skates, a dusty resin
baseball mitt, an old wooden bowling pin and miscellaneous sports memorabilia( this is the area that Jordan had already cleared off)- over the top of the bed are two golf clubs, crisscrossed – and as you can see, an old racquet in a stretcher frame is over the second bed. The ceiling fan is made up of facsimile bats as the blades of the fan and another resin catcher's mitt holding a dirty resin baseball.
The bedroom next door has a fishy theme, with a long handled net and fishing pole crisscrossed over the head of the bed and really bad plaques of lobsters and fish haphazardly hung about the room. Not very attractive.
So, Meredith, Cynthia and I bought some local art to put up in the rooms, instead. The problem was that the prints weren't too pricey, but they were unframed and so Someone needed to get them framed.
I am Someone. I guess I could have just taken them to Michael's and presented Meredith with an enormous bill- but I'm cheap. First I tried to use an old window frame to make up a huge collage- but it was just not working. So, yesterday, I just put some of them into old frames I had, and the rest I bought inexpensive frames and matted them. They look pretty good-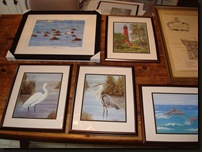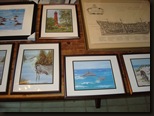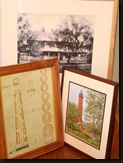 but what a lot of work this turned out to be!
And at the end I had a whole lot of nails left over!