I read a lot of food blogs. I love these men and women who are dedicated to baking and cooking and experimenting and sharing their recipes with the rest of us! Lately, I've been reading this Australian blog- fig jam and lime cordial. And she has shared a wonderful recipe that she got off of another blog, spicegirl- who got it from another blog- do you get the picture here?
Anyway, I'm sharing it with you, because I am in LOVE with these chips- or crisps as the people from the land of OZ call them.
They are so easy to make. AND they are delicious and not greasy and homemade and GOOD!
OK- this is what you need to make these!
~A mandolin for cutting the slices thin and uniform. You could also use a food processor.
~a potato (or 10 potatoes- you decide)
~olive oil
~a sheet of parchment paper
~a microwave safe plate
~a microwave
~sea salt (fine)
Then you do this: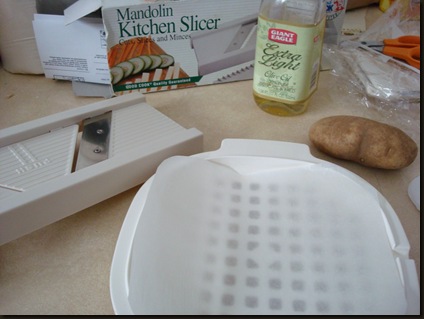 Slice potato into thin slices-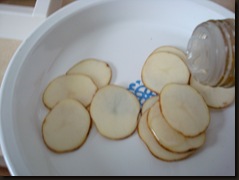 Pour 1 tsp of olive oil and turn them about to distribute it evenly on slices-
Place on parchment paper covered dish – one layer only-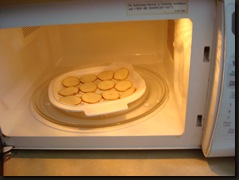 Place in microwave and cook on high for about 4 minutes.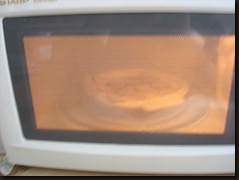 If you are like me you will stand and watch them, mouth watering, as they crisp up in the oven.
1 1/2 minutes…………. 3 minutes…………………..4 minutes!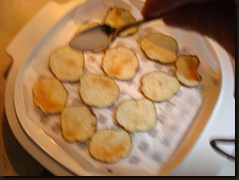 Add salt to your taste and enjoy!
I finished my chips by the time the pictures uploaded- then while I was typing up the recipe, Cynthia came over and I made another batch for her. Which are also now all gone.
Twelve chips = 1/2 medium potato.