Probably too late for this year- although I think you could do a batch of the brandied cranberries today and not miss a beat. And it is SO worth making a batch of these.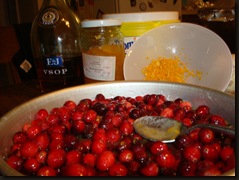 Brandy,cranberries, orange peel, sugar, and I added a dollop of orange marmalade. These are seriously good- even if you don't like cranberries- seriously good.
Brandied Cranberries Recipe
Ingredients
1 (12-ounce) bag of fresh or frozen cranberries
1 1/4 cups sugar (or substitute Splenda for half of the sugar)
1/2 cup brandy
2 TBS finely chopped orange zest
2 heaping TBS orange marmalade
Method
1 Preheat oven to 325°F. Sort through cranberries and discard any that are soft or decayed.
2 Mix cranberries, sugar, brandy, and orange zest in a 8 or 9-inch baking dish. Bake uncovered until most of the liquid has evaporated, 1 to 1 1/2 hours, stirring occasionally.
Makes 2 cups. Chill up to one week.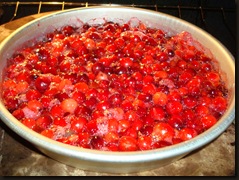 They bake in the oven- stir occasionally!
And this is the end result-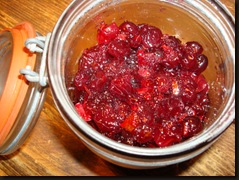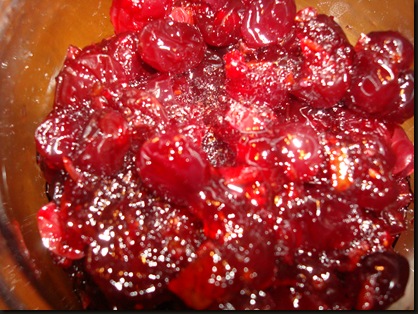 Take a closer look.
I just ate one berry- and it is "oh my goodness" good.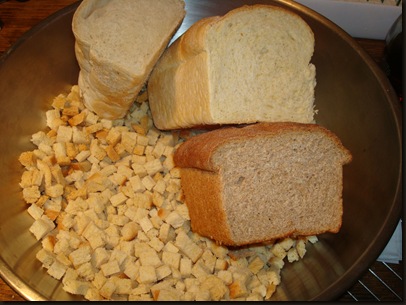 The bread stuffing is made out of honey whole wheat bread, cornmeal bread, and half a loaf of rustic white bread. This is the best stuffing I've ever made. The bread made all of the difference.
Random comment about parsley……………………………
The French cooks use only the leaves and short stems of parley in their dishes.
The Italian chefs use the entire stem, chopping it fine and going for a more robust flavor.
I'm Slovak with Germanic influences- I used mostly the leaves, but I picked through the stems for the more delicate ones and chopped them up as well.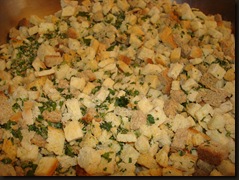 Because 2 bunches was just barely enough for the huge bowl of bread crumbs.
I used my own herbs rather than poultry seasoning, as well.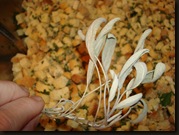 I dried the sage earlier.
Then I picked off the hard stems and rubbed it until it was pliable and broke up easily. I put twice this much in the bowl.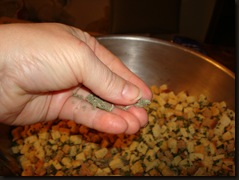 And then added celery and onions sauteed in butter.
And fried sausage and crushed nuts- and you have stuffing.
Stir it all together and put it in a bag in the refrigerator to mingle the flavor.
Happy Thanksgiving! Hope your day is filled with happiness and joy and good eats!