Yes, I did write that.
Two years ago, I wasn't using a computer much- maybe once or twice a week to check email.
Four years ago, I was just barely using a cell phone.
Things have changed. Times have changed.
Thanks to Meredith, I have changed.
She bought me a cell phone because she wanted to get a hold of me when she had a free moment and that didn't always coincide with my home time.
She bought me a camera and gave me her lap top to use.
And so here I am- on the computer daily. Blogging, emailing, Facebooking, and doing online college courses.
Am I thankful for the extra time I need to spend to keep up with that schedule?
Not really.
I don't read as much. I don't craft as much. And to be perfectly honest, I don't clean my house as much.
BUT- I had a phone in the car and Patty could warn us about the nor'easter and the closing of the causeway in enough time for us to get across.
And I have some wonderful friends from blogging and Facebook that I wouldn't know or be in touch with daily.
AND- I can share my recipes and cooking tips with a wide range of people.
So, yes, I am thankful for the opportunity to touch those around me in such a tangible yet technological way.
And to illustrate my point- here's a wonderful way to make oven baked chicken legs.
Chicken drumsticks are always hard for me because they take so long to be done next to the bone. I bake them a long time and it is still reddish in the center.
So, I looked at a LOT of cookbooks and picked up some hints that you might already have known. I didn't until recently, however, so I'm going to share.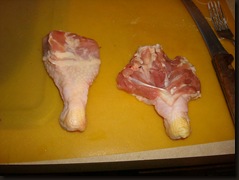 The meat is so dense at the top that it takes a long time to cook. But if you cut the meat from the top of the bone all the way down to the thin part of the leg and pull it away from the bone….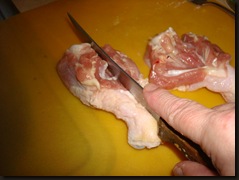 Then flour the entire leg ( I use a mixture of flour and spices- salt,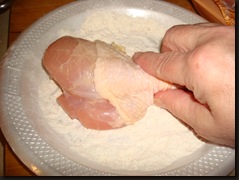 pepper, and Old Bay seasoning).
Make sure you flour the cut side as well as the skin portion
Then brown the leg in about 4 TBS of vegetable oil in a pan that can go into the oven.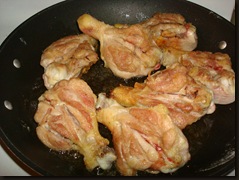 Place foil loosely over the top of pan to keep your oven from getting "oiled" by the spit of frying chicken.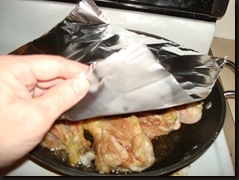 And bake for 45 minutes to an hour at 350 degrees F.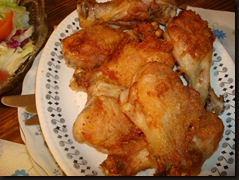 You will be so happy with the results- AND there is no reddish pink meat next to the bone. Add a salad and a baked potato and you have dinner!
Yumm! I'm thankful for oven fried chicken today, too!