I've been so sick- I haven't been out of the house in over a week.
I had a flu shot- but those germs really don't care- if they are out to get
you- then they do!
Any way- I was home- feeling quite sorry for myself and also just feeling
really bad.  Headache, muscle aches, coughing, congested- miserable.
And I started thinking about chicken soup.
I was able to make it to my computer and keep up with reading my emails and
blog posts- and my friend, Jane put up a recipe for Chicken bread soup on her newsletter,
See Jane Cook.   She put up a recipe from Joyce Goldstein that I had to try – so I made it
for myself
Soo good- it was bread pudding with chicken soup.  Velvetty and delicious- every bite
a comfort.  I almost felt well for the 20 minutes I took to eat a portion.
Here's the recipe and a few pictures if you'd like to try it.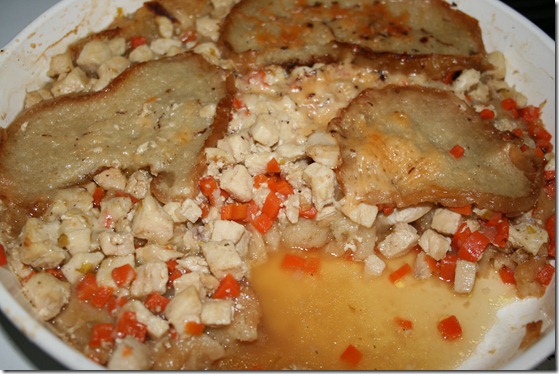 CHICKEN AND BREAD SOUP
1/2 cup sliced mushrooms (optional)
1 medium onion, cut into small dice
2 ribs celery, cut into small dice
2 small carrots, peeled and diced
2 boneless, skinless chicken breasts (about 12 to 16 oz. total), cubed
4 or 5 thick (1-inch) slices of sturdy bread
1/2 cup grated Parmesan cheese or half Parmesan and half Fontina
In a wide saucepan melt 1 tablespoon butter with 1 tablespoon olive oil over medium-high heat. Cook mushrooms  until the edges begin to brown.
Add 1 tablespoon butter and remaining 1 tablespoon oil and reduce heat to medium. Add onion, celery and carrots and cook until softened, about 10 minutes. Add chicken and stir fry until golden, about 5 minutes. Add wine and boil until it evaporates. Add chicken stock, salt and pepper to taste and the cinnamon. Cover and simmer gently until the chicken is tender, 20 to 30 minutes.
Meanwhile, melt remaining 2 tablespoons butter in a large skillet. Toast bread slices on both sides, adding more butter if necessary, until golden.
In a 6-quart, deep-sided casserole such as a souffle dish, arrange 2 to 2 1/2 slices of the bread in a single layer.  Sprinkle some of the cheese on top, then the chicken and vegetables. Top with remaining bread slices. Soup may be made and refrigerated up to 8 hours at this point.
Ladle broth over the top and sprinkle with the remaining cheese. Cover loosely with foil. Place on a baking sheet and bake at 300 degrees for 45 to 60 minutes, depending on the depth of the casserole. The bread on the top should be chewy and the bread on the bottom, custardy. Makes 3 to 4 servings.
I left out the mushrooms- didn't have any- and substituted 1 tablespoon of brandy for the wine.
I used my spelt bread because it is very sturdy and I had half a loaf sitting out.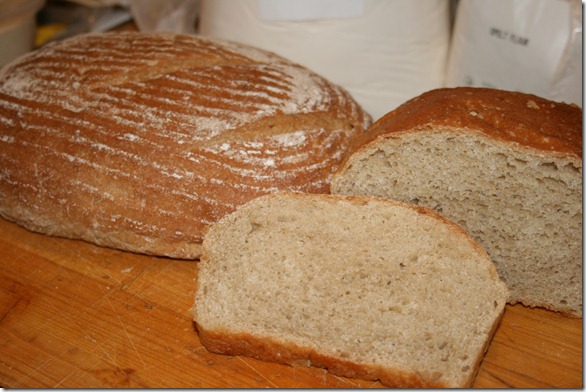 This is the highlight of my week.
I'm making this one again- but when I feel well so that I can savor it and taste all the flavors.
This soup make have saved my life this week.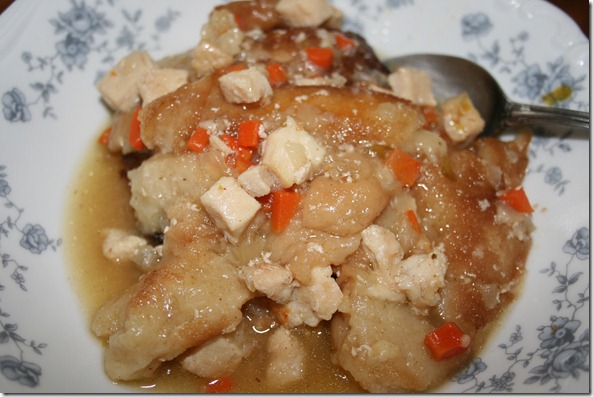 Or maybe just made it worthwhile to keep on living!