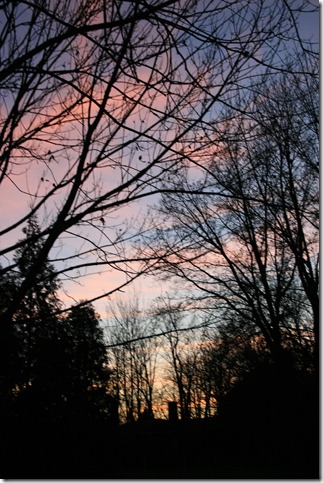 Actually- I'm starting out with – Outside my kitchen window!
The sky last night was a riot of colors- this is pale by comparison-
but I can't seem to get the whole scheme of color to show up when
I'm posed behind the camera.  It was so lovely!
In my kitchen…
I'm geared up for Christmas- here are a couple of the "Santa Bags"
I've been knitting to hold the goodies I'm making!
In my kitchen…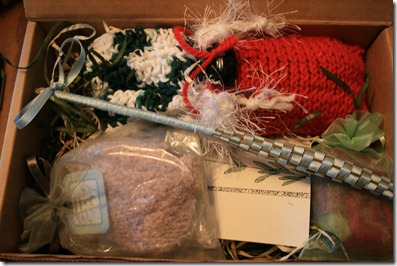 a boxful of goodies ready to send to my secret Santa exchange-
lavender wands and sachets, felted handmade soap and crocheted
dish cloths.
In my kitchen…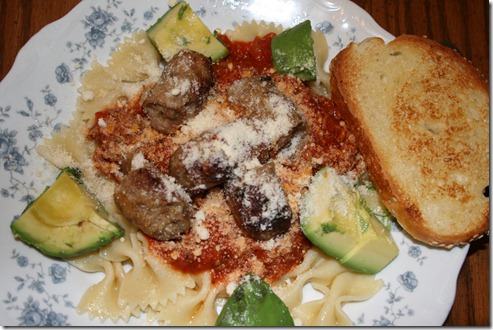 Dinner!  Italian sausage and sauce over bow  tie pasta with avocado and garlic bread.
In my kitchen…
TWO birthday cakes for my husband's birthday!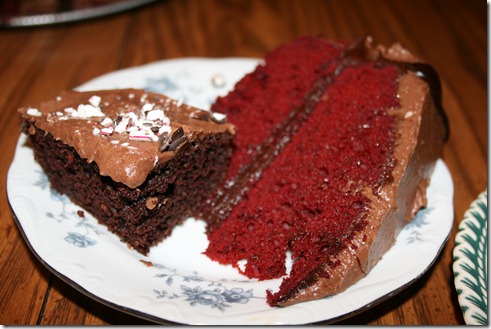 Red velvet layer cake with salted caramel chocolate garnish and a chocolate crazy
cake with dark chocolate and peppermint crushed on top.
In my kitchen…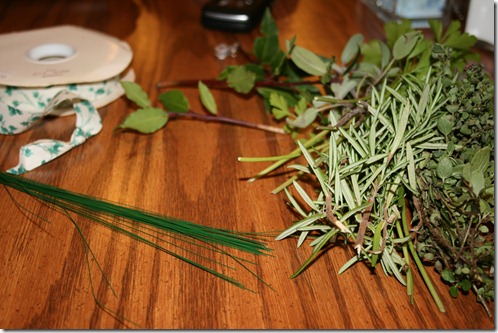 herbs for a kitchen holiday wreath.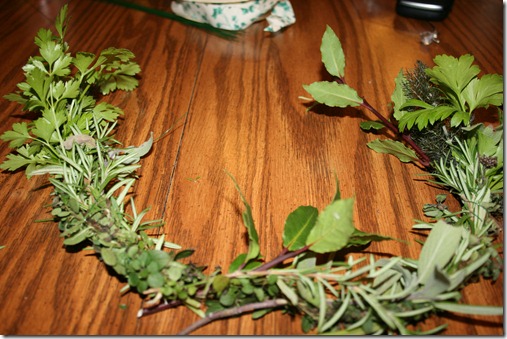 Wire them together- parsley,rosemary, thyme,fennel,sage, and bay leaf-
Shape into a circle- add a bow.(I just noticed the old bandage on my thumb- sorry.)
and hang up in your kitchen.  When it dries out- you can sprinkle the herbs into your recipes-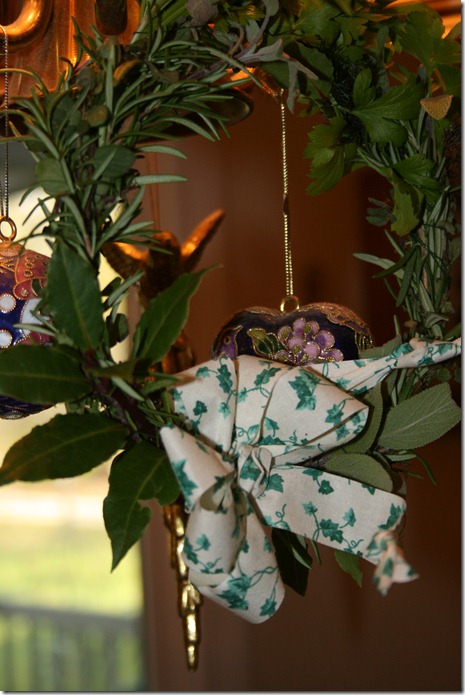 or take off the bow and toss the entire wreath into a soup pot!
In my kitchen…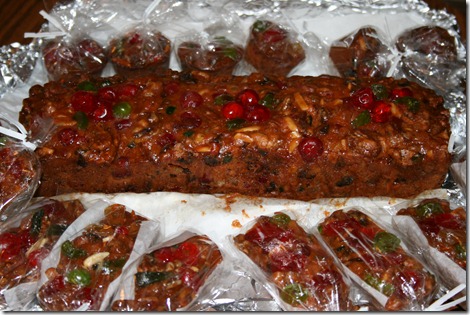 are fruitcakes, getting their last basting of brandy!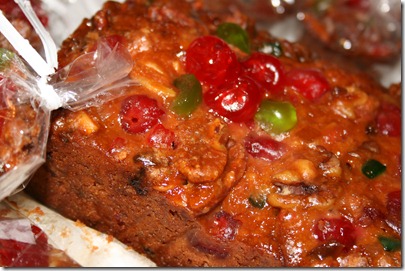 In my  kitchen…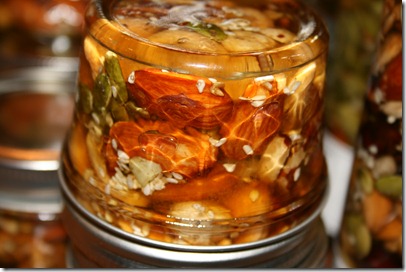 are roasted nuts packed in honey!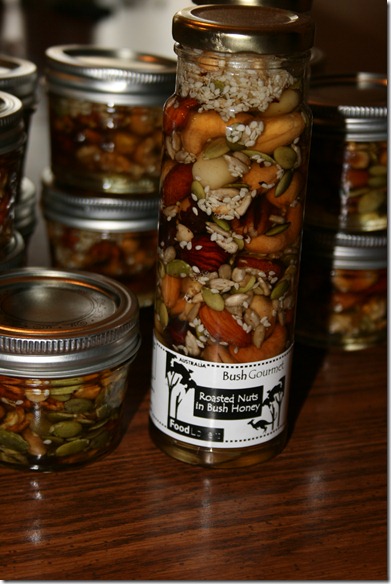 I got the idea for this from the Bush Gourmet jar that my niece, Meredith,
sent me.  Delicious- but I'm an American and needed a little extra salt to finish up
the flavor- so I asked her to send me the honey and I added salted roasted nuts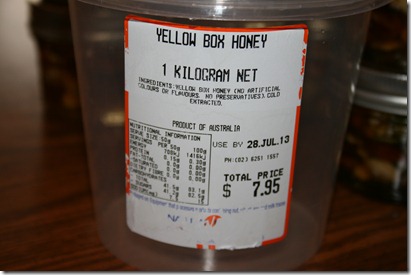 to this honey!  These are so good- I made up a lot so I could bear to give
some away as Christmas gifts.
In my kitchen…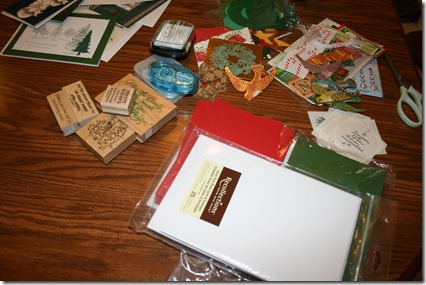 taking up valuable space on my kitchen table is this paper pile.  I started
making my own Christmas cards years ago- and try as I might- I just can't send
out boxed cards anymore.  Although I have drastically cut down on my Christmas
card list- I've got to get these finished and send them off.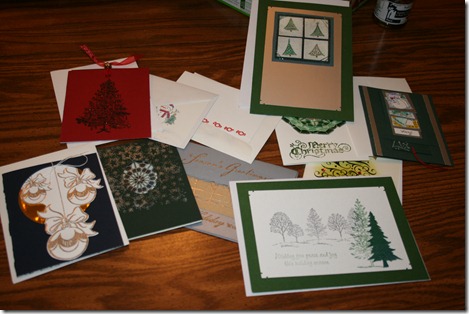 In my kitchen…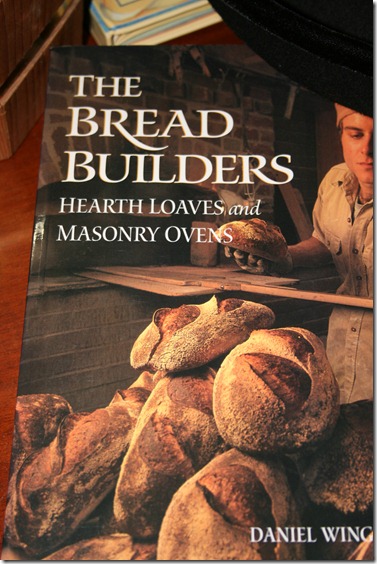 is this book my sister-in-law gave me.  I'd dearly love a masonry oven
outside my kitchen door.  I've been reading and trying to figure out
how to make this happen- but, well- it doesn't look like it will happen
anytime soon.
So I took a picture of it next to my wooden tree to share with you!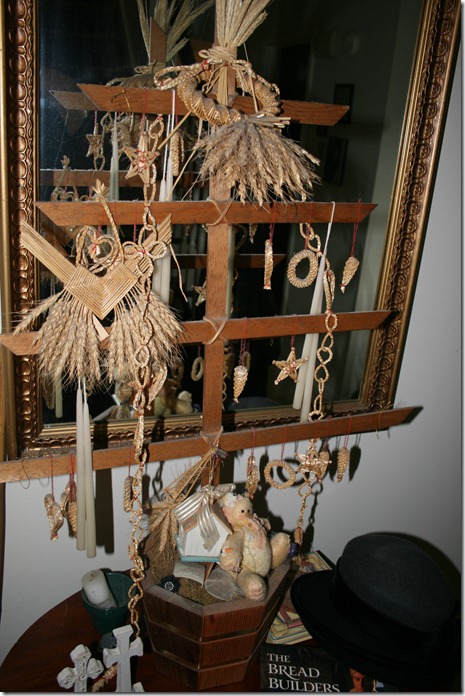 Merry Christmas from my kitchen to you and yours!
Check out other "In my kitchen" posts on Celia's blog , Fig Jam and Lime Cordial.