I'm ready for this!
The lovely Johanna of Zeb Bakes has announced
that what was once a week in now a fortnight- and I like that.
More time to make, bake , and share scones!
For those of you not up on UK time terms:
Fortnight is a unit of time equal to 14 days, or two weeks. The word derives from the Old English fēowertyne niht, meaning "14 nights".[1][2] Fortnight and fortnightly are commonly used words in Britain and many Commonwealth countries such as Australia, India, New Zealand, and Pakistan, where many wages and salaries and most social security benefits are paid on a fortnightly basis.[3] The word is rarely used in North America, except regionally in Canada and in insular traditional communities (e.g. Amish) in the United States. American and Canadian payroll systems may use the term biweekly in reference to pay periods every two weeks. Neither term should be confused with semimonthly (in one year there are 26 fortnightly or biweekly versus 24 semimonthly pay periods).
wikipedia
Anyway- I've been waiting very patiently for Scone Fortnight- and it starts today!  YAY!
You know what that means,
Scones for everybody!
And so- Here is my first scone entry-
Scutter Botch Scones!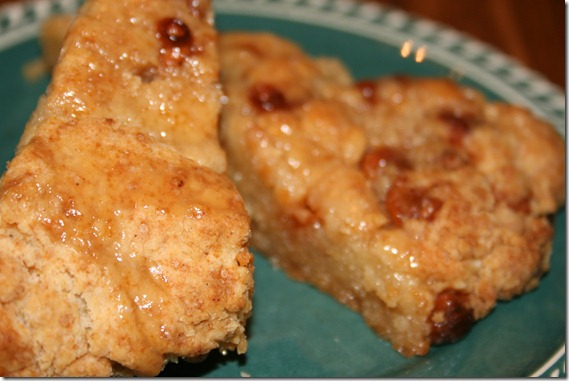 Lovely texture with butterscotch chips randomly mixed into the dough.
But what makes them scutterbotched is the butterscotch syrup I made and poured over the top
whilst they were still warm. 
Ingredients:
3/4 cup heavy cream (188 ml)
1 largish egg
2 tsp. vanilla (10 ml)
2 cups AP/plain flour (255 grams)
1/4 cup brown sugar (64 grams)
1 Tablespoon baking powder
1 good pinch of salt
5 Tablespoons cold butter (71 grams)
2 large handfuls of butterscotch chips
Whisk together the liquid ingredients and set aside.
Sift together the dry ingredients (except the chips) and then cut the butter into this mix with a pastry
blender of fork (or fingers) until it resemble a coarse meal.  Add the chips and stir.
Make a well in the center of your flour mix and pour the liquid ingredients into the well and lightly
mix together until the dough comes together- don't overmix- you want a delicate hand to keep the
scones tender.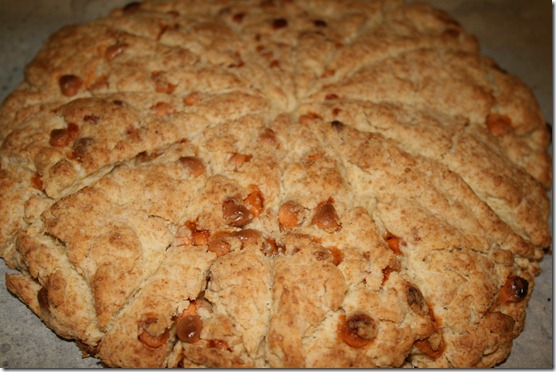 Gather up the dough and place in the middle of a sheet of parchment paper ( or just in the center of
an ungreased pan if you haven't any parchment paper, but get some parchment paper because it is
ever so handy and keeps the bottoms of cookies and biscuits and scones from burning) and shape it into
a large circle.  Cut into 12 pieces and move them carefully – just really nudging them apart so they have
a little room to expand while baking. 
Sorry I missed taking a photo of that last step, but my hands were sticky and I didn't have a cameraman
nearby.
Bake in an oven preheated to 425 degrees F (220 C) for about 18 minutes- keep an eye on them – you are looking
for a golden brown.
While baking stir up a small batch of butterscotch-
1/4 cup of butter, brown sugar , and heavy cream in a heavy saucepan- melt butter, stir in brown sugar until
completely dissolved, add cream and simmer until slightly thickened- keep warm on the ring- you want this
to remain liquid.
Poke some small holes into the scones while still hot and pour the butterscotch over the entire circle of scones.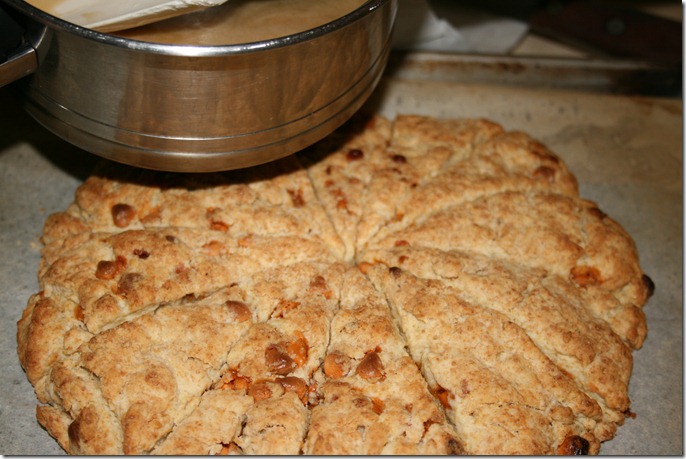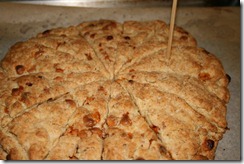 Soak the scones with the butterscotch-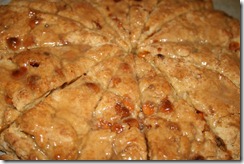 it will go into all the nooks and crannies.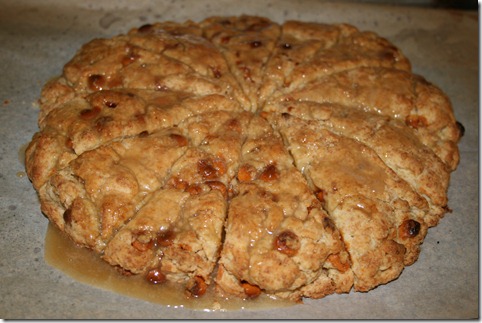 Allow to cool and set and then get ready for a treat.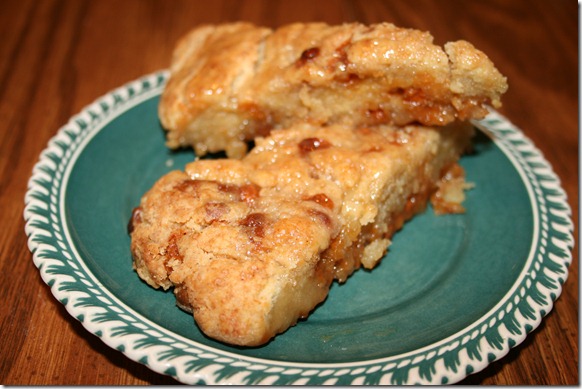 Get ready to be Scutterbotched!