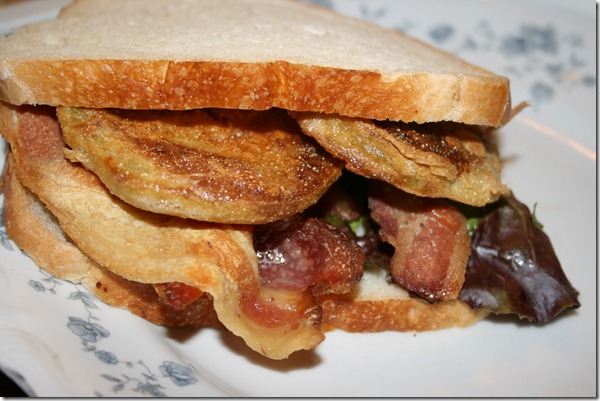 This is the epitome of Summertime deliciousness.
OK- maybe that is overstating it a bit- but really- THIS sandwich was perhaps the very best thing I've eaten
this summer.  Good thick smoky bacon from the local butcher shop- freshly fried green tomatoes and red leaf
lettuce straight from the garden between two slices of home made sourdough bread.
Fried green tomatoes are one of my all time favorite summer treats.
And I fried these up in the bacon fat after I fried the bacon.
You slice up a green tomato, dunk it into egg white, then into 1/2 cup S/R flour mixed 1/2 cup cornflour.
Fry it up in an inch of oil or bacon fat until browned on both sides – drain on paper towels.  And add to
your bacon sandwich instead of a red tomato.
YUMMY!!