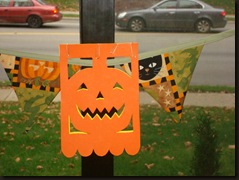 Aidan and Willow and I had some Halloween fun already. She made the wonderful banner in the picture above. We copied the paper cut out pumpkin from the toymaker's blog- Marilyn Scott-Waters is a generous and talented artist/illustrator who shares her paper toys on her blog. I have her on my side bar, but you can find her here. And I cut them out and put them onto the banner.
Later, Aidan and I carved a pumpkin and roasted the seeds.
It was a pie pumpkin, so there wasn't much room for a face- but we gave him eyes and a smile!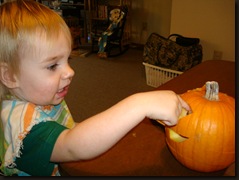 Eye!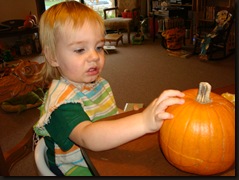 Smile.:)
And then I put a candle inside and lit it. There were no small candles and it was a small pumpkin, so I put it in a bowl and added some space between the flame and the top.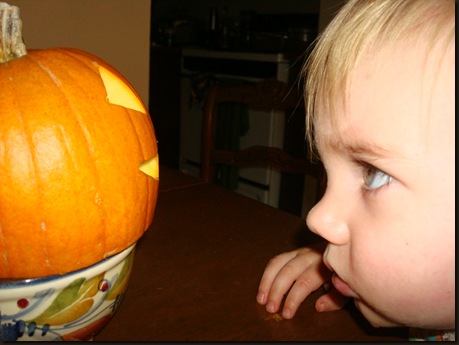 Aidan liked the flame flickering inside.
But when Aidan went to sleep for the night, I cut the pumpkin into pieces and roasted him so that Willow could make pumpkin muffins from him.
It was after all- a cooking pumpkin- and we figured we could get double duty out of him.
But…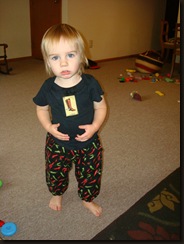 no one asked Aidan if that was all right with him. And it wasn't. He looked all over for that pumpkin the next day. I showed him the pictures on my camera, but that wasn't good enough.
We talked about how yummy the pumpkin muffins would be…
but he still kept walking about asking and looking, even calling for "Pumpa".
So the next day, we used a bigger pumpkin and carved out a cat's face.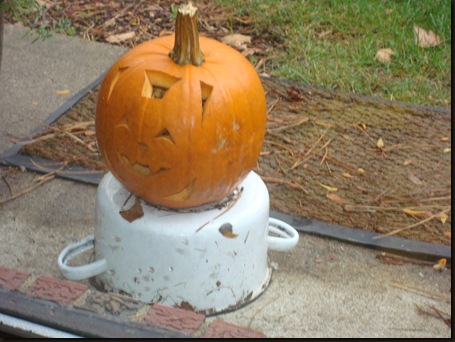 And we promised not to cook him.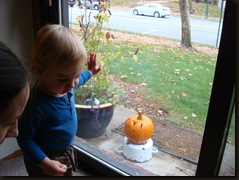 We soaked him in a mixture of bleach water and put him outside so he would keep better. Hopefully he won't wander off in the night!