First of all- I made it here all on my own. I have a problem with sleep deprivation and it causes me to fall asleep while in a car. EVEN if I'm driving.
I haven't driven for more than a half an hour without having real problems staying awake for about 10 years now. But I am pushing the limits and forcing myself to go further and further and on the way back from Chincoteague, I managed to drive almost 3 1/2 hours. Of course, Cynthia was sitting next to me and helping me to stay awake.
I came to Columbus by myself.
I sang and prayed and ate pretzels and drank coffee!
So, I'm praising the Lord for this victory!
Luke is in Chicago until Wednesday, so I get to be dinner and nightime caregiver, while Willow is teaching ESL classes.
Aidan has a cold, cough, runny nose and a slight fever. He is not feeling well at all. And yet he is such a trooper. I went with them to the doctor and he was so cooperative- breathing deeply and holding real still for the examination.
He is really talking! Counting and naming items, people and toys.
He has a hard time saying Gramma- so I had him call me Heidi.
EVERYONE calls me Heidi (except my boys who call me Mom.)
I've never been the Aunt-type or the Mrs. Fodor type- and Heidi is real easy for little ones to say.
Anyway, as I said he is pretty miserable. And he isn't eating very well- food just doesn't really appeal to him. Except for apples, cheese, sweet potatoes, and bread.
AND- these healthy peanut butter balls his mother makes him.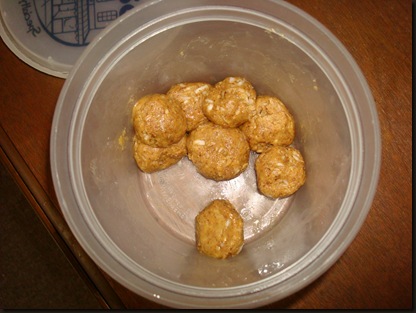 So that was supper. Here are a few shots of him devouring these balls- which by the way- he asks for by name. Pea-buttah-baws!
Here's the recipe.
1 cup natural peanut butter
1/4 cup oatmeal
2 TBS. honey
2 TBS> coconut
2 TBS. ground flax
Mix together and roll into little balls
Refrigerate until set.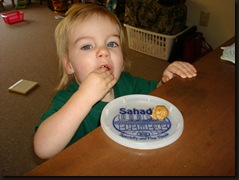 YUMM!