My husband is a meat man.  He likes potatoes- but for him it is all about
the meat.  Not fish, not pasta, not veggies.
But really- he needs less red meat.
So I'm going to try one meatless meal a week.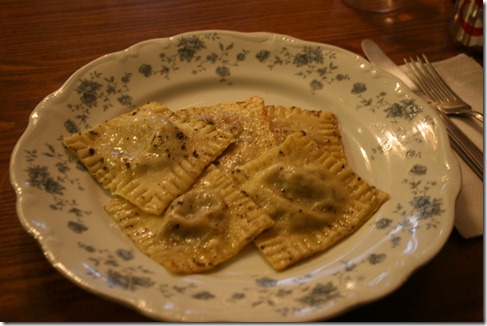 Tonight it was homemade ravioli with mushroom and onion, sauteed in browned butter
and crumbled sage.  I got the recipe for the  sauce and kind of used the noodle ingredients-
you know, flour salt and eggs? – here. It is an Alton Brown recipe from off of Food Network.com.
But he had a sausage center, and this is supposed to be meatless, so I substituted the filling
for a mushroom and onion mix that I sauteed onions and mushrooms and added salt and a sprinkle
of sage.    After it cooked down about 10 minutes, I added a half cup of plain yogurt and 1/4 cup
of Romano cheese.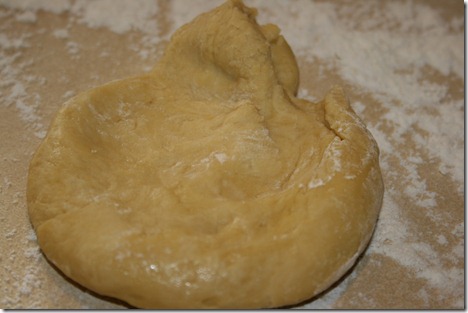 3 cups flour
3 eggs
3 Tablespoons water
1 teaspoon salt
1 good slug of olive oil (about 3 Tablespoons )
Put the dry ingredients in a bowl, create a well, and whip up the eggs and the other
wet ingredients in a measuring cup and pour into the well.  Mix the flour into the
egg mixture, a little at a time, until your dough is holding well together.  Then dump the
entire mess onto your counter or bread board and knead the lump of dough for 8 to 10
minutes until it is smooth.  You may not use up all the flour, but that is fine.   Flatten
into a disc , put into a plastic bag and leave in the fridge for about an hour.
Then, spread flour on your counter and roll out VERY THIN!
And in a rectangle- make sure it is very thin.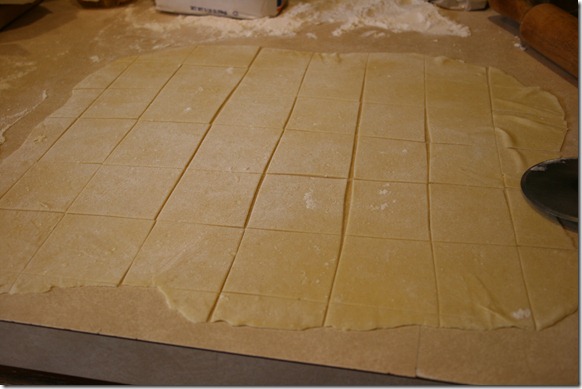 Now cut into small squares.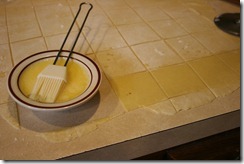 Make up a egg wash-whip an egg up with some water and
spread onto one line of squares.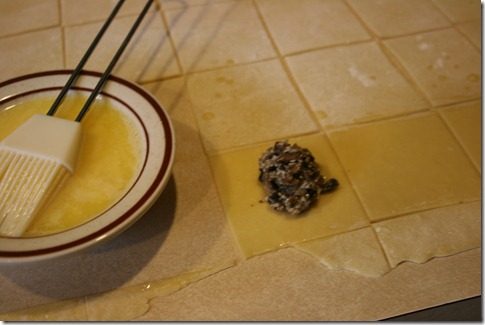 Place a small amount of mushroom filling- about a teaspoon- in the center of the eggy square.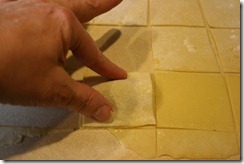 Place the square in the next row on top and smooth around the
filling and then seal the  edges as you push the air out from the center.
You can leave the edges plain or use the tines of a fork to help seal the edges.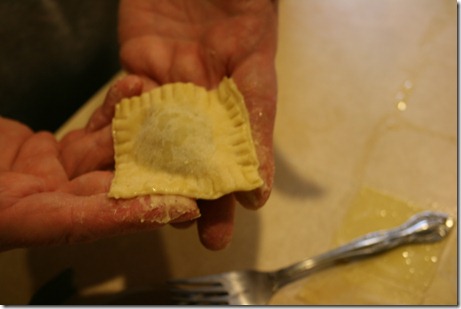 Have a pot of salted boiling water ready on the stovetop.
And drop the ravioli into the water one at a time- don't overfill the pot- and let them
cook for about 7 to 10 minutes.  Have a skillet with browned butter(1/4 cup) next to the pan of boiling
This is my very favorite part of the whole recipe!!!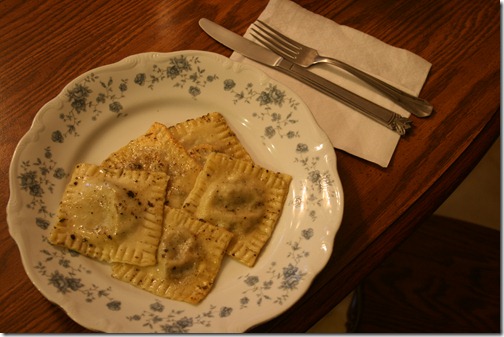 Because right after you brown them a little- your meal is ready to EAT!!!
AND-Frank said he liked it. 
He didn't love it- but he liked it- and that is pretty amazing.