Just putting up the title made me think of myself
as a child.  By 2012 I would have imagined a fully
automated kitchen- like something out of Star Trek-
with replicators and requesting a gourmet meal from
the computerized oven.
But – right now- I have nothing like that in my kitchen!
Here's what I do have…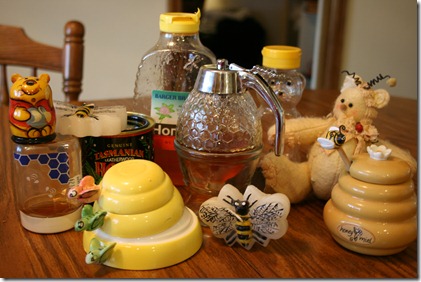 In my kitchen there is honey- lately I've been liking the thick and very
flavorful honey that Meredith sends from Australia.  Not sure if their bees
are just better at making a dense and thick honey or if it's in the way they
process it- but it makes our American honey seem more like a weak syrup!
I not only have honey in my kitchen- but all kinds of honey kitsch.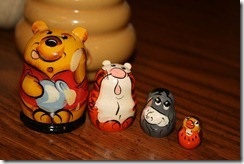 Like Pooh nesting dolls…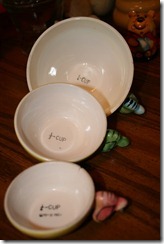 A hive of measuring cups…
a couple of honey pots, and this little
honey bear bee doll that is made of a chenille bed cover.
In my kitchen…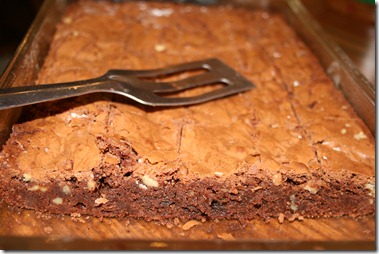 is a pan of brownies.
Not Dan Lepard's sweet potato brownies- in fact- not anyone's famous
brownies.  Just an old favorite recipe that I've used most of my life.
Honestly, brownies are made up of sugar, eggs, butter, chocolate and flour.
And they almost all taste really yummy.
Here's my tried and true recipe that you are free to use and share-
ingredients-
2 cups sugar- I use  cup brown and 1 cup white granulated
1 cup flour- I use AP/plain flour- but feel free to use Whole wheat or graham flour
4 large eggs
pinch of salt
1 tsp vanilla- I use my homemade vanilla- use whatever you have and like
4 squares unsweetened chocolate- or 8 oz. choc chips- or a bar of good dark 85% chocolate
1 cup butter- or margarine, melted
method:
Grease and flour 9×13 pan.
Melt chocolate and butter together in microwave or in sauce pan- be careful not to burn it.
Beat eggs and sugar together until thick and light-colored, making sure that sugar is dissolved.
Add chocolate mixture to egg mixture- beat until well mixed.
Mix in flour salt and vanilla (I add 1 cup of chopped walnuts at this time, as well.)
Bake until tester comes out clean.  Cut while warm, then remove from pan when cool.
Baking temperature :350     Baking time :  35 minutes.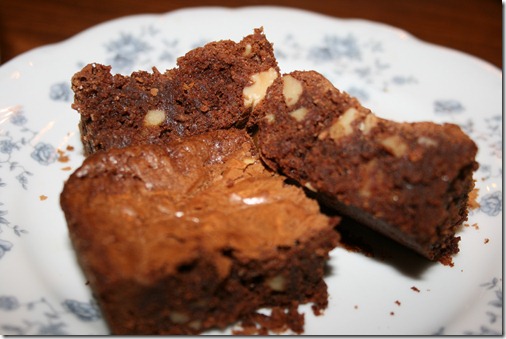 In my kitchen….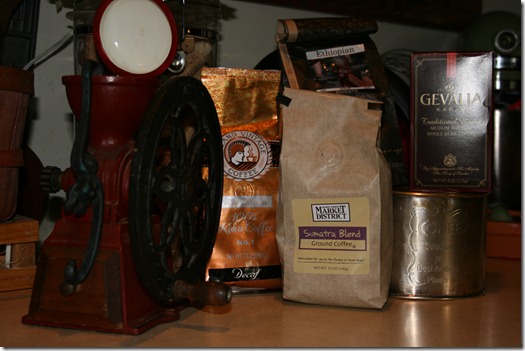 is a stash of coffee from all over the globe, Sumatra, Hawaii, Ethiopia, and where ever
Gevalia gathers it

– and a wonderful cast iron coffee grinder.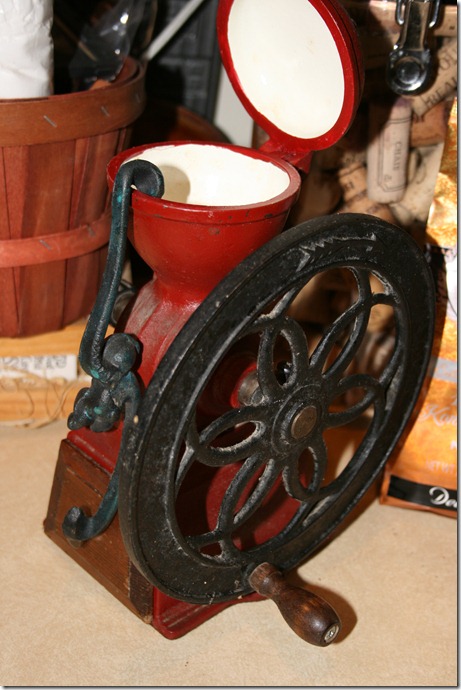 I have used the grinder many times- but not always for coffee.
The last time I used it was to grind up the rhizomes for orris root to use in potpourri.
I don't think orris root is dangerous, but I'd like to clean out the grinder before I use
it for anything meant for human consumption again.
In my kitchen are these little candies I made up with white chocolate disks, yellow
m +m's and bits of pretzel sticks.  I made them as a joke, because my husband
ALWAYS wants bacon and eggs in the morning.  But they are really tasty and easy to
make up quickly.  I am going to get some more m +m's to make up a whole batch!
And in my kitchen…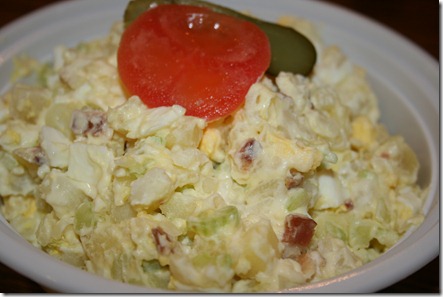 is this potato salad that I made to trick myself into thinking that winter is over.
It's not over.  But potato salad is such a favorite summer time treat that I was
longing for something different.
This is part of a series started by Celia at fig jam and lime cordial-go there to see
other kitchen posts.   And join us , if you'd like to share what is in your kitchen!