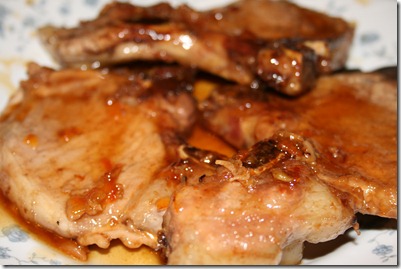 These were the highlight of my weekend.
I loved all the people I interacted with-loved the books I read-
enjoyed all the activities- BUT- these remain a shining moment in my
memory!
It is Autumn here in Ohio.  The recipes are a little heavier and more
nourishing for the body and soul.  The light and lovely dishes of summer
are yesterday and there are more soups and stews on the stove.
But these pork  chops would be good anytime of the year!
They are savory and sweet- satisfying, but not too heavy- they smell divine-
and they are not very expensive. 
Here's the recipe-
4 nice loin chops
2-3 TBS ground coriander
2 cloves garlic, sliced
2 TBS olive oil
1/2 cup orange marmalade, preferably home made
S + P, to taste
Method':
Heat oil in large cast iron skillet, add garlic and sautee until translucent.  Remove
from pan.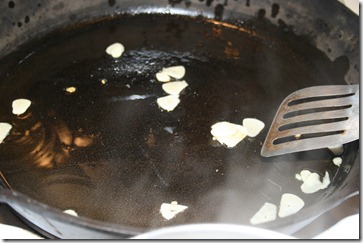 Rinse chops and dry with paper towels.  Dredge or sprinkle with ground coriander.
I ground my own coriander ( I always have lots of coriander- because my cilantro goes
to seed so quickly- I keep planting more which gives me LOTS of coriander!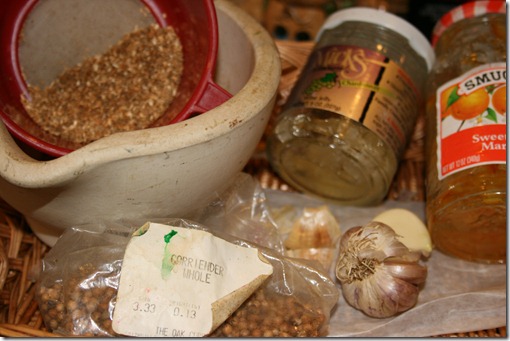 I like it fresh ground and like to use my mortar and pestle!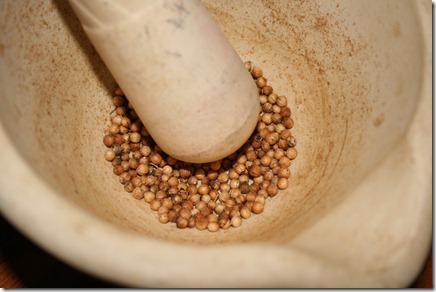 So after grinding it up, I used a fine sieve and sprinkled the coriander on top
of the chops.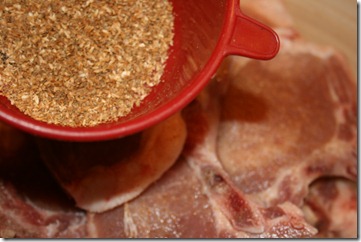 Add salt and pepper, and they are ready to put into the cast iron skillet.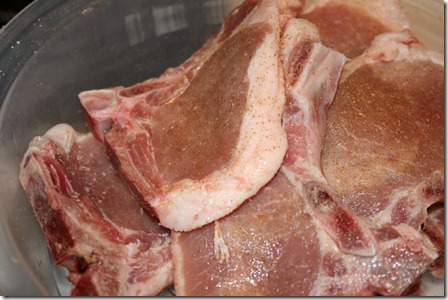 Fry them up- browning both sides-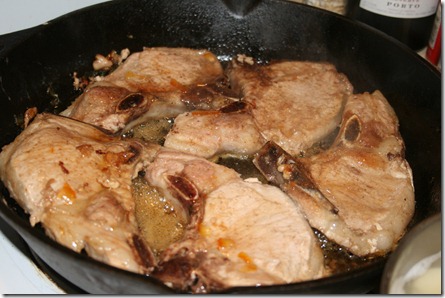 Then take them out and add the marmalade.  Deglaze the pan, stirring the
marmalade into the pan juices and put the chops back in and turn several
times while simmering the chops in the glaze.
Cook on stove top until chops are done and looking shiny with the glaze.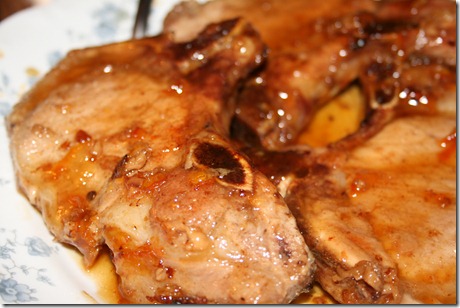 Then dish them up and scrape all the glaze on top of them and serve with a
side of rice pilaf and green vegetable and salad.
Add crusty rolls-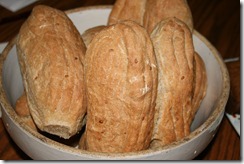 And you have a wonderful dinner!