I made turkey burgers the other night.
They were great- but I didn't have any good buns
in the freezer and I didn't want to run out and buy
any- so I decided to make some.
I had about a cup of tempura batter that I had made up
the night before- and I'd used skim milk and an egg in the
batter, so I refrigerated it and decided to use it in the buns.
PLUS- my starter was really in need of being used.  I had neglected
it lately and was just starting to feed it up, but I had a LOT of starter
and didn't want to throw it away so I decided to make sourdough
ham/turkey burger buns!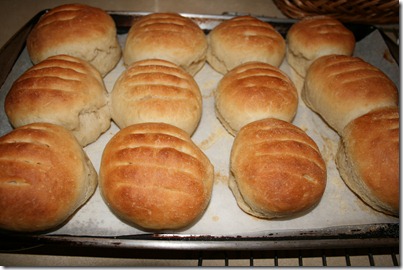 They really turned out delicious!
Here's the recipe.
1 cup sourdough starter (recently fed 1 cup water/1 cup flour)
4 cups AP or plain flour
1 tsp rapid rise yeast
4 Tbs. melted butter
1/2 cup milk, scalded then cooled
small egg, beaten
1/2 cup HOT water
2 tsp salt ( I like a salty bread- you could cut this down if you don't)
The milk and egg were the base of the tempura batter.  So if you have
some left over- feel free to use it in their place!

I made a sponge with the starter, 1 cup flour and the milk.
I mixed it up and left it for a couple of hours.
It was bubbly when I came back, so I added everything else and mixed
it all up, oiled the bowl and left it to raise/rest for a bit.   About 10 minutes
later, I came back and folded it about 5 times, covered it and left it again-
this time for 20 minutes.  Then I folded it again for 5 or 6 times- it was smooth
and pliant- I placed it back in the bowl and let it raise for 45 minutes.
Then I shaped the dough into balls about the size of my fist, flattened them
down with the palm of my hand and using a bread press made slits across the tops.
I used parchment paper to bake on and sprinkled semolina flour on the paper before
placing the buns on top.
I let this raise for about 25 minutes ( suppertime was drawing near) and then baked in
a preheated oven 375 F for about 30 minutes.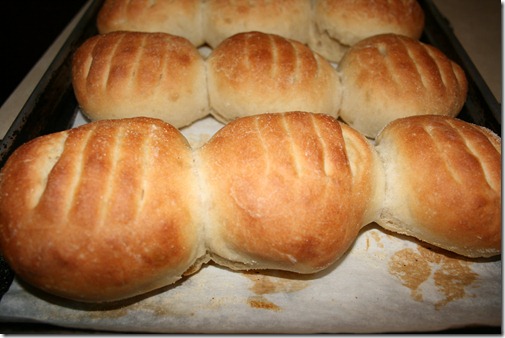 They are so good.
And so were the turkey burgers!