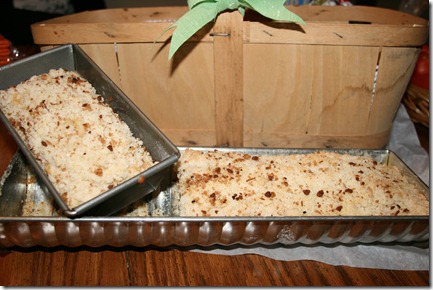 I found this recipe here – at Zeb Bakes.
And it looked really good.  I've been wanting some apple cake, and I gave
my daughter in law, Willow, Ottolenghi- The Cookbook for her birthday- and I
felt a little bad, because he is based in the UK, in London, and his recipes are
all in grams and millilitres. ( Not to mention the temperature in Celcius and
gas marks!)  So I decided to use a conversion table from food.com and convert the
recipe for average American cooks- into cups and ounces.
And then after I got the measurements right= I discovered I didn't have any almond
meal and that the walnuts turned the cake kind of pink.  So I decided to use Macadamia
nuts- which changed the look of the cake – plus I sprinkled some Pampered Chef Cinnamon1
Sparkles on top before baking. (And I just remembered that I used one small tub of chopped
pears and one medium sized golden apple for the fruit.)
Ingredients:
1 medium apple, peeled and diced
1 pear, peeled and diced ( or 1 lunch size tub of diced pears, drained)
Zest of lemon- juice of 1/2 lemon
1 3/4 cup AP flour
3/4 tsp baking powder
1 cup granulated sugar
1/3 cup ground nut meal ( I used macadamia and it was wonderful- you could use almond, if you prefer)
2/3 cup canola oil
1/3 cup toasted, chopped nuts( again I used macadamia nuts- but you could use walnuts.)
3 large eggs, separated
1 tsp cinnamon
2 tsp vanilla
pinch of salt
Streusel /crumb topping :
1/4 cup of soft butter
2 Tbs sugar
2/3 cup AP flour
Method:
First put together the crumb topping, 
mix all three items in a bowl and rub the butter into the flour and sugar
with your fingers until well incorporated- refrigerate.
Preheat oven to 340 degrees F, and grease and flour several loaf pans.
Put fruit into small bowl with lemon zest and vanilla and squeeze half of lemon over apple.
Add roasted nuts and set aside.
Sift flour and baking soda and ground nuts into a large bowl, add cinnamon and whisk
into the flour mixture, set aside,
In two smallish bowls, separate 2 of the eggs whites in one bowl, yolks into the other.
Add the 3rd egg into the yolks.
Mix the sugar and the oil in a large measuring cup, it will be very stiff, but mix together until
the sugar is almost completely dissolved.  Add the yolks into the oil and sugar mixture.
Add the fruit mixture to the flour mix and stir until the flour is incorporated and them pour
the sugar/oil into the large boil and stir until all the flour . Mix together- the dough will be stiff
and hard to stir.  Beat the reserved egg whites and the pinch of salt into stiff peaks and carefully fold
into cake mixture.  Do not over mix- the whites are to help  give the cake a little extra rise.
Pour batter into greased and floured loaf pans, and spoon the crumb topping onto the top of the batter.
Bake at 340 degrees F for about an hour- checking with bamboo skewer to test for doneness,
( skewer should come out of center of cake, dry.)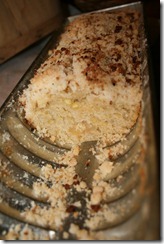 I took this to my knitting group whilst it was still hot from the oven.
We ate half of it- amidst much smacking of lips and yumming it up! ;D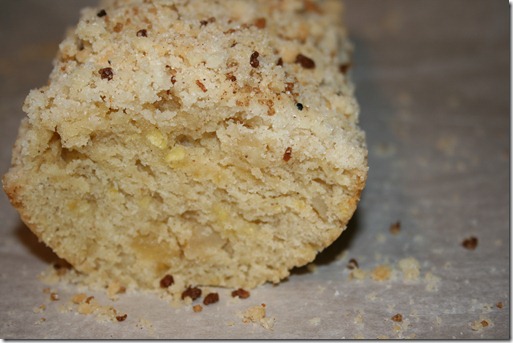 It is light and delicious and very apple-y!
A perfect Autumn Apple Cake.