e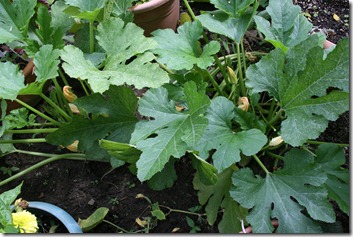 Big plants with plenty of blossoms- but no zucchini-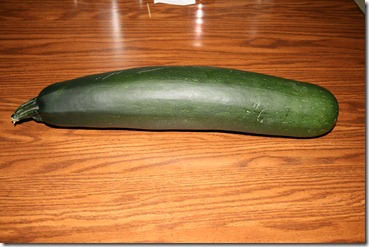 until now!  And it is such a huge one that I used it to make
creamed zucchini soup and chocolate zucchini cake.
They both turned out great!  I haven't made anything out of
zucchini for years because I generally love it sauteed with onions-
but I don't use the huge ones – I usually get to them when they are
still small and tender.
Here are the recipes
Zucchini Soup creamed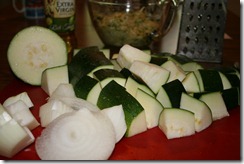 Ingredients:
3 cups of zucchini chunks
1 large onion, chunked
1-2 TBS olive oil
4 cups chicken broth
1 generous pinch saffron
salt and pepper- to taste
1 cup half and half
garlic croutons
Method: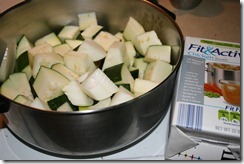 Sautee zucchini and onion in oil until tender.
Pour broth over top, sprinkle saffron on top, add salt and pepper
and cover with lid and allow to simmer for about 20- 25 minutes.
Uncover pan, stir and spear to make sure it is fork tender.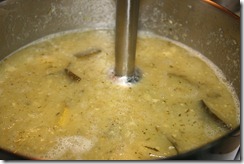 You can put in a processor or use a wand type blender at this point-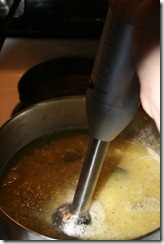 – however you choose, reduce the contents
into a thick liquid, add the half and half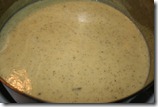 and bring ALMOST to a boil.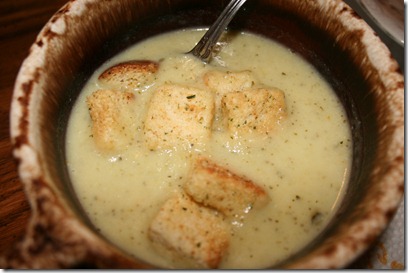 Ladle into cup or bowl, add garlic croutons and enjoy!  This is the one
soup that Frank gives me the compliment of calling gourmet!  LOL!
It is really good, but very simple.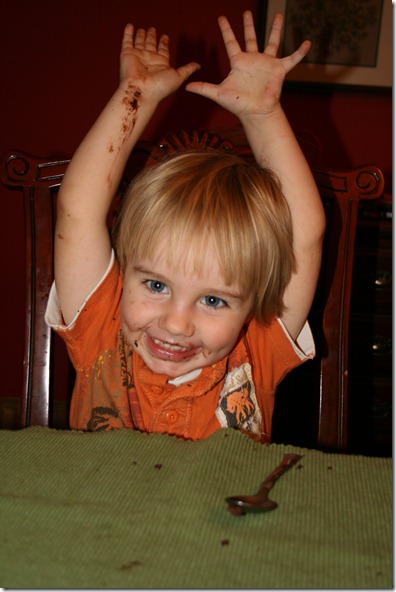 This cake makes my grandson's eyes light up.  He wears it after eating it
AND it is healthier than most.  It is my daughter-in-law, Willow's recipe
and so good!
Ingredients:
2 1/2 cups whole wheat flour
1/2 cup cocoa powder
1 tsp baking soda
1 tsp baking powder
1/2 tsp salt
1 cup brown sugar
1/2 cup granulated sugar
1/2 cup softened butter
!/2 cup buttermilk
3 eggs
1 tsp vanilla
2 cups shredded zucchini
1 cup chocolate chips
Method:
Preheat oven to 350 degrees F.  Grease 9×13 pan.
Mix together flour, cocoa,soda and powder and salt in large bowl.
Cream sugars into butter , add eggs and mix together well.
Add vanilla, buttermilk and zucchini, then slowly mix in dry
ingredients. When batter is completely moistened, add chocolate
chips and pour batter into 9×13 pan.  Bake for 45 minutes and then
put on rack to cool. 
Slice into squares and either sprinkle with 10x powdered sugar OR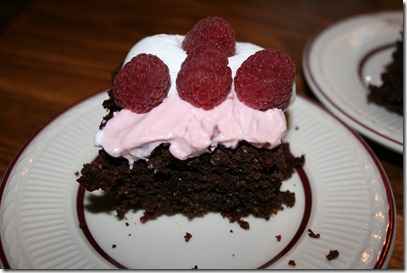 top off with marscapone cheese with raspberry preserves blended in
and whipped cream and raspberries!
Either way- this is delicious!