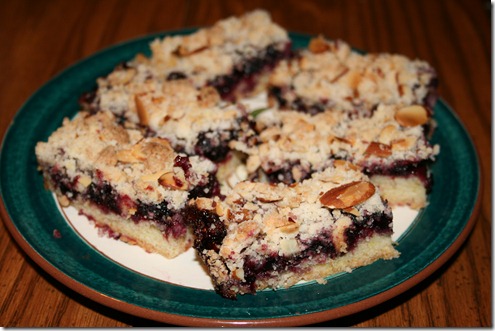 Last Friday, our downstairs upright freezer decided to defrost itself.
We have had a long hot BUSY summer.
And we have neglected to do some things- so the ice in the freezer was
becoming like a living monster-growing and Growing and GROWING!
Until it pushed the door open of it own volition.
Sometime in the wee hours of Friday morning it started to defrost the
freezer, so by the time we got there it was well on its way!
Thankfully- the meat was still rock hard frozen.
The ice cream was a loss.
The bread we could use for toast that morning.
But the bags of blueberries were totally defrosted and I had to
find something to make with them fast.
The good news here is that Frank loves desserts.
He thinks every meal should end in dessert.
But he's not that fond of fruit pies.
So- I decided to make blueberry bars.
Of course, I started making them without looking for a recipe.
Because I'm that stupid, really.
So I put them into a pan with a cup of sugar, the juice of a lemon,
and  teaspoons of cornstarch and started to cook them down.
Then I started making a crust and after I had mixed up sugar (1 cup)
and flour (3 cups) and a pinch of salt, I grated a cup of butter into a
measuring cup and thought- I should go see how much baking powder
 I should add- and I went to look up a recipe.
The recipe said 1 teaspoon of powder would be sufficient.
But it was really different for the blueberry addition.
It said to use fresh blueberries and mix them with sugar and cornstarch
and lemon juice and then just spread it over the bottom layer of crust.
RATS!  I had already been cooking my thawed berries for about 20 minutes,
and they were bubbly and fragrant and done.  There would be no going back.
So- I adapted my recipe, and added some almonds and lemon zest to the top
layer and baked them up.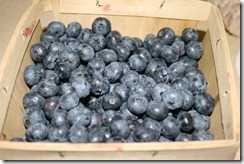 Recipe ingredients:
1 cup white sugar
1 teaspoon baking powder
3 cups all-purpose flour
1 cup cold unsalted butter (2 sticks or 8 ounces)
1 egg
1/4 teaspoon salt
1/2 cup slivered almonds
Zest and juice of one lemon
4 cups  blueberries ( frozen or fresh)
1/2 cup white sugar
4 teaspoons cornstarch
1. Preheat the oven to 375 degrees F (190 degrees C). Grease a 9×13 inch pan.
2. Put frozen/thawed berries in pan – add 1 cup sugar and lemon juice and
cornstarch and cook until bubbly and thick.
(2. Alternative: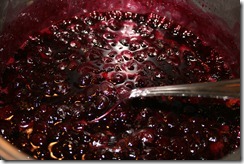 mix blue berries, 1/2 cup sugar and cornstarch in bowl- set aside.)
3. Mix together flour, sugar, baking powder and salt.  Grate butter into mixture-
and mix together until it resembles oatmeal in texture.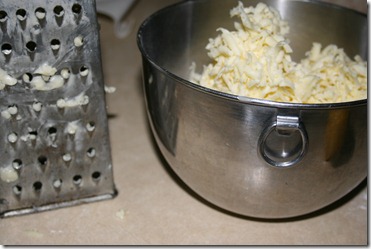 4.  Add egg and lemon zest- and mix together with hands.  Dough will be very
crumbly.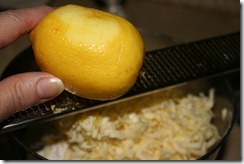 Now put half of mixture into bottom of 9×13 pan and
press down.  Spoon blueberry mixture over the entire pan.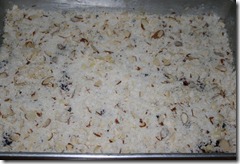 Add almonds  to mixture in bowl and stir.  Sprinkle over top
of blueberries and bake for 45 minutes to an hour (keeping an eye on
it- you want the top to be beautifully browned.)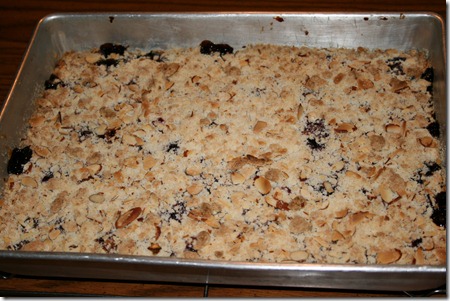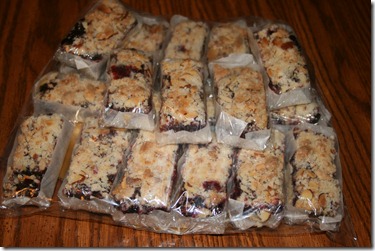 Cut into bars when completely cool and separate carefully.
I wrapped mine up in wax paper and plastic for lunches.
I ate one first and decided to freeze the rest- these can be
easily eat by the handful!