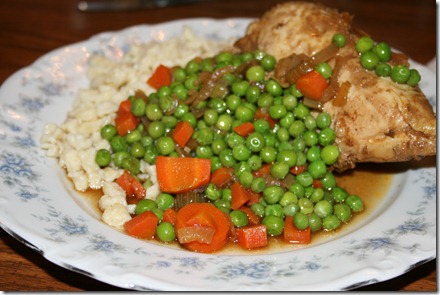 This is always a favorite at my house.  But especially when it is cold.
AND it is cold.  10 degrees F this morning- with expected snow showers
-later turning into an icy coating.  Brr!  We need some comfort food-badly!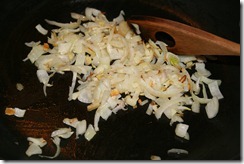 Start off sauteeing an onion in a tablespoon of oil.
Most of my recipes for soups and main dishes start out that way.
Ingredients:
1 onion, diced
6 to 8 chicken pieces- small breasts,thighs and drumsticks
1 to 2 TBS. olive oil
3 TBS Hungarian paprika- I like the smoked rather than the sweet
1 1/2 cups chicken broth
sliced carrots- about 3 large
2 ribs of celery, sliced small
1 package frozen peas
Spaetzle , recipe here.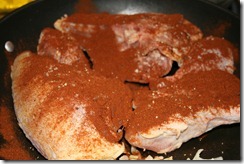 Place chicken in pan, and sprinkle with s+p to taste,
then sprinkle paprika over the pieces.
Brown one side and then turn over and gently sprinkle
some more paprika on top.
The name is Paprikash- so you basically are coating each piece.
Simmer for about 20 minutes, until the chicken loses the pink raw look.
Add carrots, celery and chicken broth.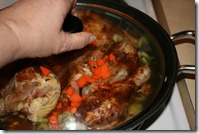 Cover and cook about 45 minutes.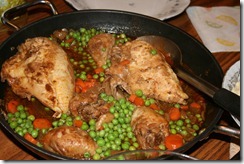 Turn over pieces once more, add peas and let simmer another
10 minutes or so- don't overcook- you want the peas a bright green.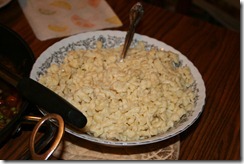 Make spaetzle –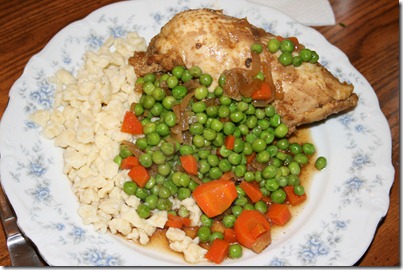 And enjoy!