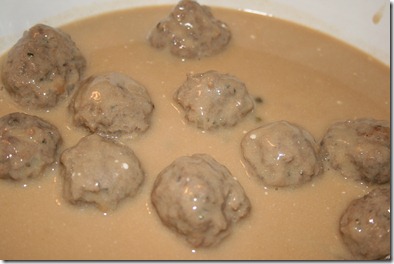 Ingredients:
½ lb. ground pork
½ lb. ground beef
2 small, day-old rolls or 2 slices of bread
1 egg yolk
2 small onions, 1 chopped fine, 1 quartered
1 Tbsp + 2 Tbsp butter or margarine, divided
4 cups vegetable or beef broth
salt and pepper
5 whole peppercorns
4  allspice berries
1 bay leaf (optional)
2 Tbsp flour
1-2 Tbsp lemon juice
2-3 Tbsp Golden Sherry
2-4 Tbsp sour cream
24 capers, drained
Method:
Soak the day-old rolls in water and squeeze almost dry.
Melt 1 tablespoon butter and cook 1 onion, chopped fine, until translucent.
Cool, slightly.
Place the ground meats in a bowl, add cooked onion and the rolls, broken
in pieces. Add salt and pepper to taste, about ½ teaspoon salt and
¼ teaspoon pepper. Mix everything well by hand or with a spoon until
mixture can be formed into round meatballs. Add a few tablespoons
of broth if necessary to achieve this. Form 10-12 meatballs.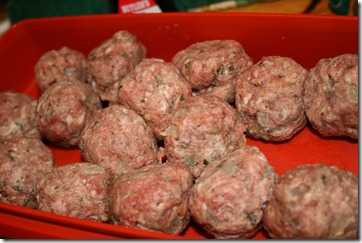 Bring the rest of the broth, with the cracked spices and second onion,
quartered, to just under a boil and add the meatballs carefully.
Cook until done, about 12 minutes. Remove meatballs and keep warm.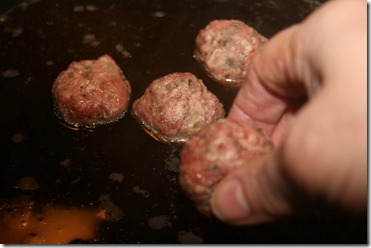 Melt 2 tablespoons butter in a pan and add the flour, making a roux.
Little by little, stir about 1 ½ cups of the meatball broth, strained,
into the roux, stirring to keep the sauce smooth. Add the capers.
Add the sherry and season the sauce to taste with lemon juice
and sour cream. Add the meatballs to the sauce and serve.
Add boiled potatoes,carrots and carmelized onions and a green salad-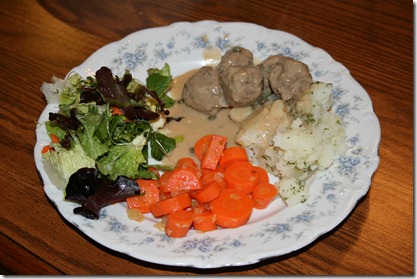 And enjoy!