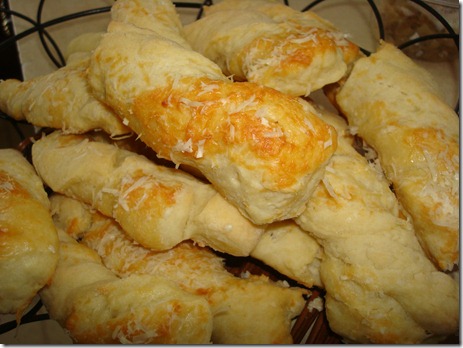 These are not your typical Italian-style bread sticks.
I got the recipe from a Hungarian friend of mine and they are in texture more
like a Kifli cookie.  But they are savory and so flaky and good.
Try them _ I KNOW you will like them.
Ingredients:
4 1/2 cups plain AP flour
3 tsp. salt
2 sticks (1/2 lb.) butter- room temperature
1 TBS yeast
1/3 cup warm water
16 oz sour cream (1 lb)
2 egg yolks (you will use the whites when you roll out dough.)
Proof yeast in water.  Mix salt and flour in large bowl.  Add all other ingredients and mix
together well.  Knead lightly and form into ball.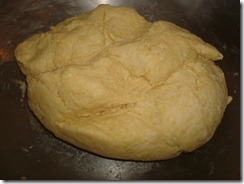 Turn bowl over onto top of counter and allow to raise 1/2 hour.
Roll out and brush loosely whipped egg whites on top.
Fold up- keeping whites inside dough- and allow to raise another 1/2 hr.
Roll out again- and sprinkle with seeds, salt, or cheese.
Cut into bars, twist and place on parchment paper on top of baking sheet.
Bake at 350 degree F for 15-20 minutes or until golden brown.
These are light and flaky and buttery!  Dip into a marinara sauce or spread with
a pate- these are great- I like them plain instead of a roll with salad.