This is the Reynold's Tavern- excellent food- great ambiance- and friendly service!
I give it a high grade in the tea service arena!
We interrupted our trip on the way to Meredith's house to stop for a cup of tea and some yummies!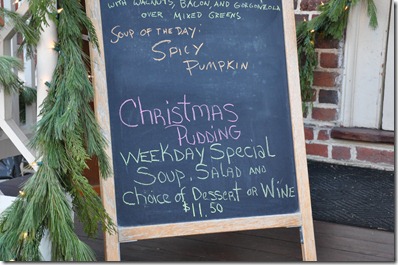 These are the yummies!
Spicy Pumpkin- soup of the day!
And the Christmas Pudding- flaming with brandy sauce!
I came home determined to make that soup.
I didn't.
It is difficult to make foods when you have only limited spices and ingredients.
I think I needed cardamom.
I couldn't find any at a do-able price.  It was ridiculous. 
So I came up with my own version.
And like it better!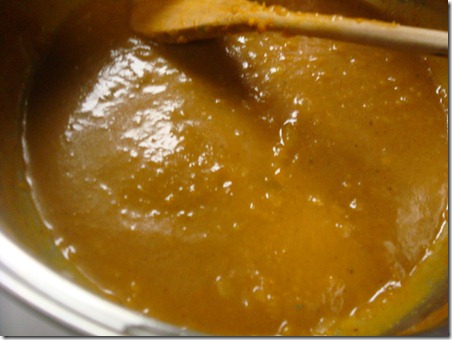 I baked a butternut squash and mashed it.
Then I carmelised half of a large chopped onion.
I added 1 tsp. of cumin and 2 tsp of cinnamon, 1/2 tsp sea salt and 1/2 tsp black pepper and 12 oz. of beef broth and stirred over a low fire.  Then I added about 2 1/2 cups of a brewed tea ( Winter Solstice) mainly fruits and hops,cloves,rosemary- it is a tisane from serendipiTEA.  Then I added about 2 tsps of a very good quality Balsamic vinegar.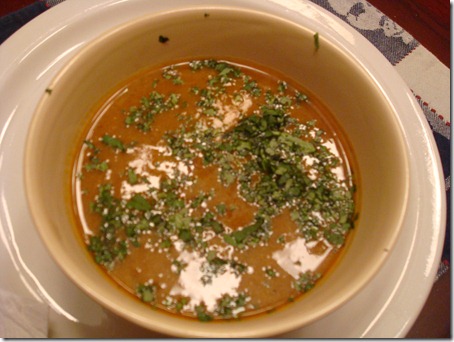 Sprinkle chopped cilantro on top and an extra dollop of balsamic vinegar when serving- and look at the happy faces around the table!