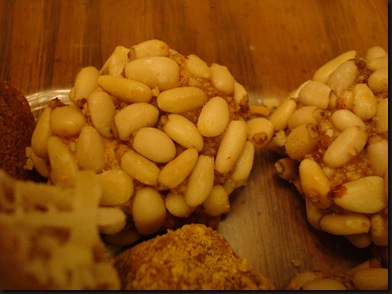 Panellets!
I blame it on Arthur.And his blog, michaelangelo in the kitchen.
He came to visit and commented on my St. Nicholas cookies.
So I followed him back and "OH MY GOODNESS" – he IS Michaelangelo in the kitchen. NO KIDDING. Go take a look at his artistry- he is amazing.
I usually just go to be awed and don't really even try to make his stuff. I'm a rank amateur in his world. But these cookies (little breads) looked doable and delicious and involved some of my favorite ingredients.
So I decided to adapt them to my larder and capabilities.
Mix together the following ingredients:
2 cups almond meal (I put my almonds in the food processor for a very long time.)
1 cup mashed white sweet potato ( I had orange>)
3/4 cup sugar
1/2 of the white of a small egg.
When mixed thoroughly, shape into chestnut sized balls and roll into pine nuts or chopped Macadamian nuts or coconut or even crushed graham craackers.
I liked the macadamian nuts the best.
Then place on cookie sheet lined with parchment paper, paint on a light egg wash and bake at 350 degrees F for about 12-15 minutes. Keep an eye on them= they burn quickly.
These are so good- and kind of good for you and gluten-free!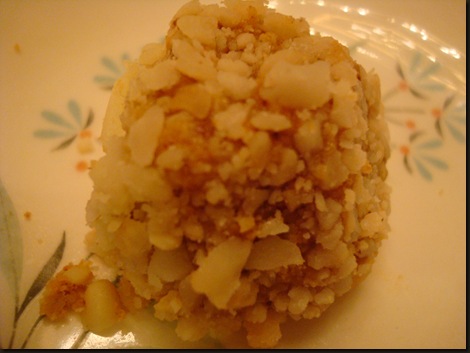 Try them- I'm pretty sure you are going to love, love , love them, too!