–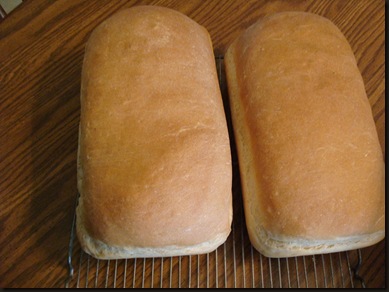 My favorite part of the Thanksgiving meal is the stuffing.
I love making it, snacking on it, tasting it, breakfasting on it on Thursday morning, and eating it with gravy poured over it for dinner.
I have made it for about 30 years- with help from first Robin and my mom and now Cynthia, and I won't give up making it until I absolutely have to. This year, I've been making my own bread to go into our stuffing. I've used whole wheat bread left over before- but never baked loaves specifically to use for the stuffing.
Until now.
Store bought bread is expensive – and it really isn't that good. I don't like to eat it for sandwiches, so why should I put it into my favorite dish?
I've baked 5 loaves of bread- two a light sourdough bread, one a rye, and the last two peasant bread. I've sliced and cubed 3 loaves and toasted them in the oven-
and I am so looking forward to putting them into the stuffing on Wednesday!
Here's my stuffing recipe- although it is approximate because I change it according to what I have in stock.
1 lb butter,melted
3 cups chopped celery
3 cups chopped onion
2-3 cups chopped parsley
1 lb bulk sausage, mild
1 cup chopped walnuts
6 to 8 cups bread, cut into crouton sized squares
2 cups turkey or chicken broth
salt and pepper, to taste
poultry seasoning- about 1 tsp or to taste
Sautee the celery and onion in the butter until it is transparent and soft. Add to big bowl full of cut up bread cubes. Sautee the sausage and add to bowl along with the parsley and nuts. Stir until well mixed and taste. Add salt and pepper and poultry seasoning, pour 1 cup of broth on top and stir again until the bread is moist and everything is mixed up well. Now taste again (this is the best part of this recipe!).
If it seems a little dry- add more broth, adjust your seasonings, and taste, yet again!
This makes a lot of dressing, but I make it the day before and let it sit in the fridge overnight so that all the flavors can marry, then I have a bowl for breakfast on Thanksgiving morning. You can stuff it into the turkey or put it into a casserole or even in a slow cooker- but if you use the last two options, add another cup of broth so it doesn't dry out.
Stuffing is the best part of Thanksgiving dinner!