When I was a little girl, my mother bought Robin and I a perfume making factory for Christmas. WE LOVED IT!!
Little eye droppers and funnels and tiny bottles with labels.
And essential oils and sweet almond oil to mix them in- it was seriously a little girl heaven. We mixed and smelled and spilled and splashed and used it up within a week. sigh. sob. groan.
Heaven over in less than a week.
And we had made such an unholy mess in that week that my mother vowed "Never again!!!".
But we had had a taste of what it could be like- and so- we were ALWAYS finding ways to make potions. We cut up flowers and pounded roots and mixed and shook and pulverized everything we could find that smelled good – and met with abysmal failure. Most of our stuff was rank. Some of it got moldy. We quit.
Until we were adults and then we started up again, albeit slowly, very slowly.
I started making my own potpourri. She experimented with spices.
And we started making up our potions again.
Only this time- SUCESSS!
Today, I made some potions .
I made ginger and vanilla milk bath powders.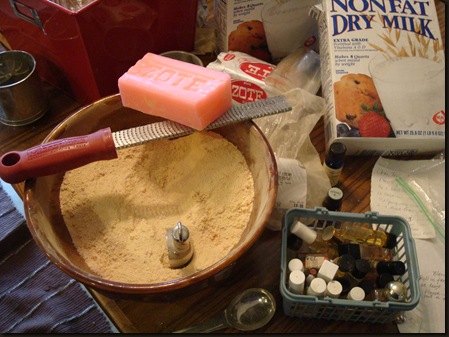 I love this fragrant and milky bubble bath- I make it mostly for myself and give away enough so that I don't feel too self indulgent.
And I made a chai tea mix-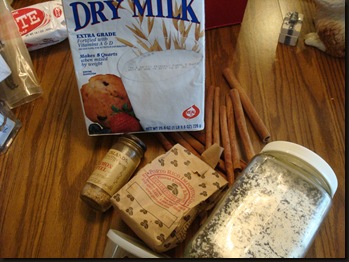 The nicest thing about making your own is that you control the flavors!
I mix darjeeling tea with lemon peel, cardamom, cinnamon and milk.
-Those are my favorite- no cloves- and it is delicious with a little honey added at the end for sweetening.
And finally- Mock Boursin Cheese mix-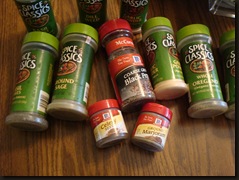 Again- my favorite herbs in a dry mix that you add by the teaspoon to 1/2 butter and 1/2 cream cheese to make a wonderful spread.
I want to make up some hot chocolate mixes and some nut mixes as well.
And I love making fruitcake- it seems more like a marvelous mix of magical fruit and nuts than a recipe. The whole process is so fulfilling to my senses that it is also like a gift I make for myself and share with others as an afterthought.
And I think I'll make some lip balm and rose and sea salt scrub with shea butter!
Let the magic begin!