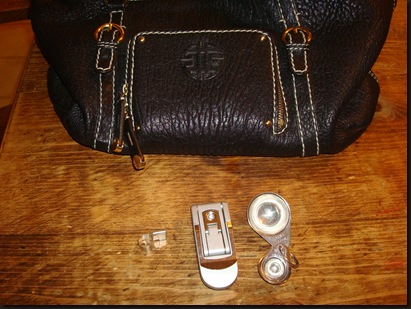 That's what my mother always called it.
I call it a purse or in this case, a bag.
I think it's supposed to be a designer- but I don't know enough about designers to have recognized it and I threw away the tag.
Cynthia bought it for me at a consignment shop- and I really like it.
Designer or not- it is big and roomy with lots of pockets (hence the title)- and it is real leather and smells like an expensive bag (at least it did when I could smell- now with this cold I cannot smell anything!).
Aidan likes it, too. He was rummaging around when I was at their house and kept making "hmm!" sounds. Like as if he was finding treasure.
Which brings me back to the picture above.
–
my pocketbook treasures.
A small whistle from the fair, a booklight, and my traveling measuring spoons.
These are so handy- they go into my purse every time I change it up.
They are good to have in a pinch, can attract attention if I'm in a jam- AND- they are great for distracting small children during long church services. (except the whistle- I wouldn't use that during a long church service. Although it might be interesting to see if it would – NO- I WOULDN'T use that during church services, at all.)
Do you have pocketbook treasures?
Are they shiny and useful and noisy?
Just wondering.