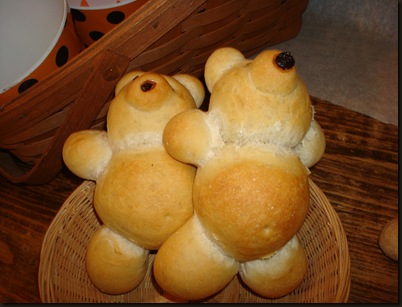 In my family, we sing the children to sleep. There is a bathtime ritual, a couple of books read, prayers said, and then- songtime.
It can last a long time. But it is comforting and quieting and bonding time and well worth spending. My oldest son, Luke, has been singing my grandson to sleep with simple little tunes – and recently he heard Aidan singing one of them to his stuffed bear as they danced in a circle, bear swinging wildly-
"I am the Lord of the bear, bear, bear!"( to the tune of "Lord of the Dance")
Today I am the Lord of the bread bears!
I made whole wheat bears, I made Italian bears, and I made spelt flour and oat bran sourdough bears! And they all kept their shapes and minded their manners whilst in the oven- coming out pretty much still in the same shape they entered.
Here is a whole grouping of photos- bears in and out of disguise- all to please your fancy on this Monday before Halloween!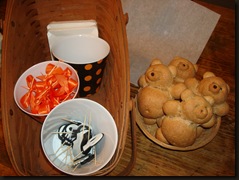 -bears in the basket awaiting costuming.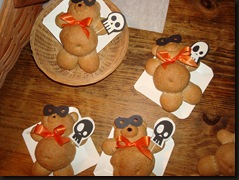 -whole wheat bears, masked and ready.
BOO!
-bears with little brothers!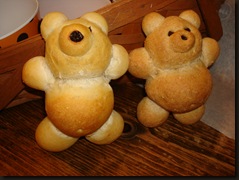 Italian Bear and spelt and oat bran sourdough bear- bears in pairs!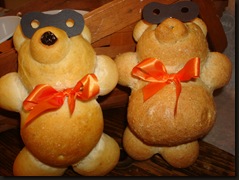 -bears getting dressed!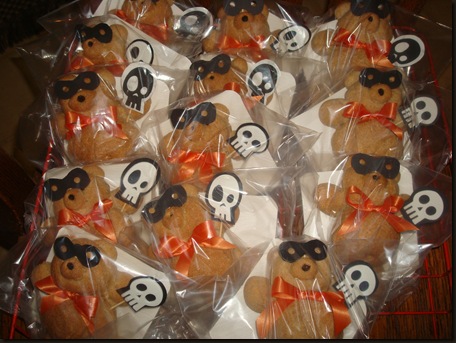 – bears bagged and ready to go!
They looked so cute, I couldn't keep the pictures all to myself.