I probably should have just said, "NUTELLA", anyone?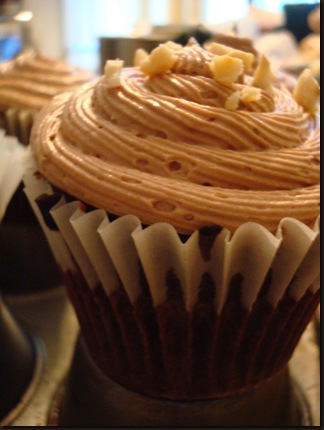 We have a recipe in our family for crazy cake.  Crazy because it doesn't use any eggs, I think.  It is a moist, dense chocolate cake that goes well for cupcakes, because it doesn't crumble or leave half of the cake behind in the paper.
Ingredients;
2 1/4 cups flour
1 1/2sugar
4 1/2 TBS cocoa
1 1/2 tsp. baking soda
3/4 tsp. salt
9 TBS. vegetable oil
1 1/2 TBS vinegar
1 1/2 tsp vanilla
1 1/2 cups water
Mix dry ingredients together with whisk= this uses the most basic of ingredients plain flour, granulated sugar, baking cocoa, white vinegar, etc.  If you have fancier ingredients and want to use them- go ahead- the cake will turn out great whatever you substitute.
Add wet ingredients and stir until batter is relatively smooth.
This will make a 9×13 inch cake or 24 cupcakes or 1- 8 inch double layer cake .
Grease pan of choice and bake at 350 degrees F for about30 minutes or until toothpick comes out clean and/or cake bounces back a tiny bit when poked- however you check doneness in cakes.
The icing is a basic buttercream with Nutella as  main ingredient.
1 stick butter,soft
3 cups icing sugar (10x)
1/2 cup nuttela
2 TBS milk, cream or half and half
Beat butter until smooth, add sugar one cup at a time, add milk until you get  a creamy  and easy spreading texture, then add nutella and beat until it is completely incorporated.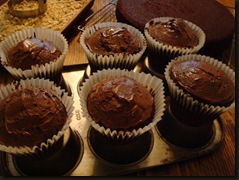 Cool cakes, then spread a thin layer of nutella on top of each.( you could eliminate this step, but why?  If you decided to make these it is because you love nutella and this is just another opportunity to add it and perhaps to lick your fingers!)
Put icing in pastry/icing bag and add large star tip.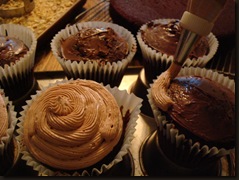 Ice cupcakes starting at outer edge and work your way around to the center- flourish the tip at the top to end with a star.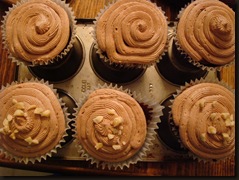 Add roasted chopped hazelnuts or not- you already have the nutella- right!?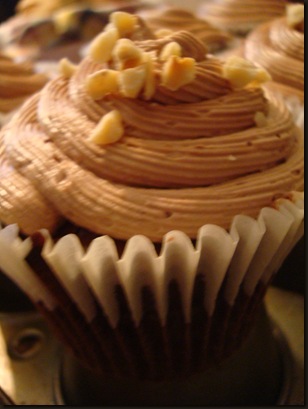 Enjoy!