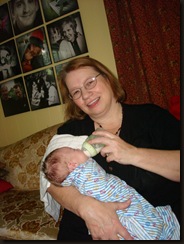 My son and daughter in law are expecting another son in October.
I love being a grandmother- it is one joy after another- without most of the hard work and decisions that come into play as a parent.
I am here to engage in play and enjoyment.  I get to receive lots of hugs and kisses and happy to see you smiles.  And I have the distinct joy of spending time in the lives of my children and the next generation just through babysitting and skyping.
And I have Allyson's foster children to love as well.  Aiden is headed to becoming her son.  And now, she has another foster baby to love.  And that means I get to hold the baby and enjoy.  And believe me- I AM enjoying!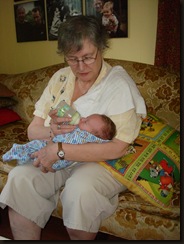 So is Cynthia!
So, I am getting in some serious practice for October!
And now onto the oatmeal portion of this post.
I like oatmeal.
As a cereal, certainly, but even more as an ingredient.
Today I made oatmeal cookies and granola.
They both turned out great- and not a slice of bacon in the recipes!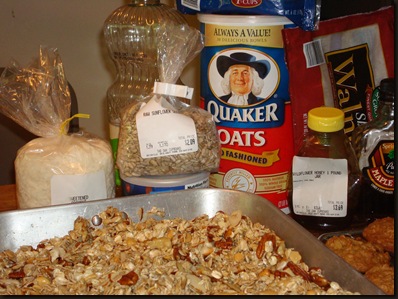 Here's the approximate recipe for the granola.
Ingredients:
6-8 cups of  old-fashioned oatmeal
1 cup pecans
1 cup sliced almonds
1 cup cashews
1 cup walnuts
1cup raw sunflower seeds
1 cup coconut
1 pinch sea salt
1 cup honey
1 cup canola oil
1/2 cup maple syrup
Preheat oven to 250 F degrees.
Stir together dry ingredients.
Stir together wet ingredients.
Stir together ALL ingredients, place in oven and stir every 30 minutes for about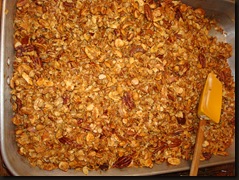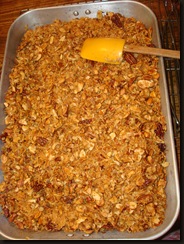 2 1/2 hours or until golden brown.
Take out of oven and continue to stir until cooled down.
Place in air tight container.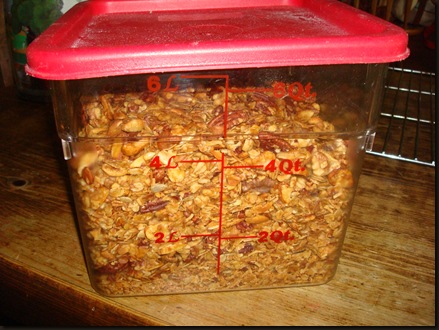 I ended up with about 5 1/2 quarts of granola.
You can use your favorite nuts in this mix-  add a little more of this – a little less of that and make the kind of granola you like the best.  I like mine really nutty and not too sweet.