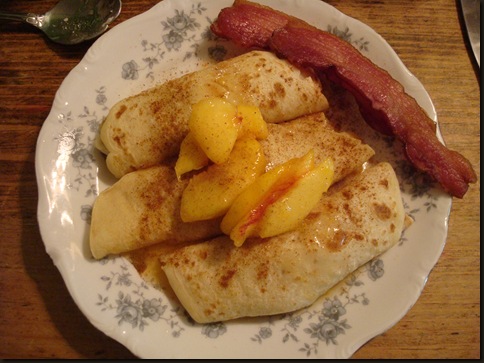 It doesn't really matter what language you use, these thin and flexible pancakes are always welcomed with a smile and ready appetite!
They take a while to make, because you cook each one individually- usually, by the time I'm doing the last pancakes, the rest have been gobbled down. I try to save the last two for me, but sometimes, I only get the messed up one ( hah- purposely done!).
The recipe I'm sharing is so easy- it uses club soda for leavening and leaves out butter altogether. Celia at Fig Jam and Lime Cordial has a wonderful recipe for Lemonade Scones using the same principle- in Australia, Lemonade= lemon/lime soda- like Seven-Up or Sprite. Try her scones- only3 ingredients and they are great.
Here is the recipe for the palacsinta (pal- ah-sheen-ka )
Ingredients:
1 cup all-purpose (plain) flour
1 egg
1 cup milk
pinch sea salt
1/2 cup club soda or seltzer water
Vegetable oil for griddle
fresh fruit or preserves
confectioner's sugar or cinnamon sugar for garnish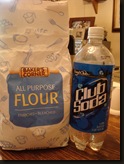 Method:
Stir flour into a bowl. Add egg, milk and salt. Beat gently until smooth. Add seltzer or club soda. Beat batter with wooden spoon until smooth. Put batter in cool place and allow it to rest for 10 to 15 minutes.
Pour some oil into skillet and allow it to get very hot, but not smoking. Pour in a small amount of batter, thinly covering bottom of pan. Cook in hot oil until crisp. Turn pancake over and fry on other side. Add oil as necessary. If batter begins to thicken, thin it with a small amount of club soda.
Spread pancakes with your favorite preserves, or you can use fresh fruit- I used sugared peaches on ours. They may be rolled up or folded in half. Sprinkle pancakes with icing/powered sugar or cinnamon sugar and enjoy!
This recipe should make 12 very thin pancakes- Palacsinta!