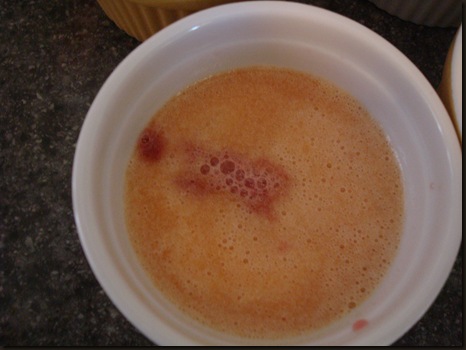 All the recipes that I found on Google were very sweet and fruity. I was a little discouraged – but then I decided to make up my own recipe.
So, I went over to Allyson's today to get a couple of other opinions.
First, we cut and pureed the melon in a food processor-
then we put the larger pieces through a food mill.
And then we added our ingredients into small ramekins so that we could pick our favorites.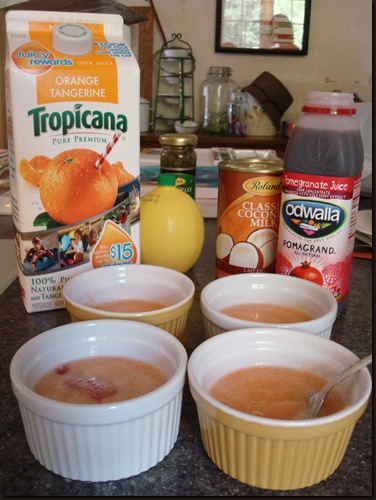 We mixed and tasted and added a little -then tasted- basically- we tasted a lot!
Our favorite- the best- is the following recipe.
Chilled melon soup with coconut milk, capers and dark cherry salsa in a cloud of Greek yogurt.
(Long title=good soup)
Ingredients-
Basically the title.
1 large cantaloupe melon- processed until smooth
1 can coconut milk- well shaken before opening
1/2 cup pomegranate juice- mainly for the color
1/2 tsp lemon juice
1/2 tsp salt
1 jar small capers
1 batch of dark cherry salsa
1 small carton of Greek yogurt
Mix the first 5 ingredients together. Then, according to your taste add the capers by the teaspoon and mash them to release the flavor. Keep tasting- I liked more of the caper zing than Ally, so I stopped at 4 tsps. and added extra to my bowl at the end as a garnish.
Chill for several hours. Then serve in small bowls or ramekins and garnish with a teaspoon of Greek yogurt on soup's surface and sprinkle a tablespoon of cherry salsa over the top. Add capers if you like a little more sass and vinegar!
Aiden gave it his total approval. He ate 3 ramekins and wanted more!
The texture of the salsa took him a little longer to eat. But he was one very happy little taste tester!
I love this soup for an appetizer or a light lunch on a hot summer day.
It has a lovely presentation, a light and cooling texture, and is flavorful and fruity and just downright delicious.
Try it- I think you'll love it, too!