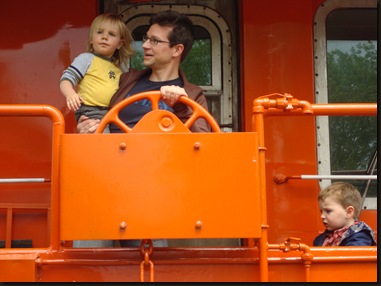 Saturday was Meredith and Aidan's birthday!
And we celebrated with a train ride and lunch at the Winking Lizard in Peninsula!
Allyson's Aiden has a birthday in May- so we enjoyed the train experience with both boys for their birthdays!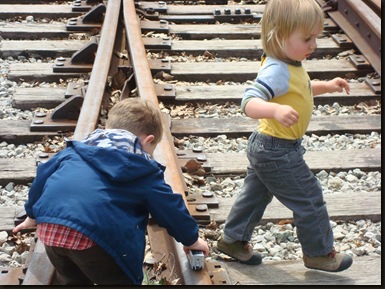 They had such a good time- both on the train and playing on the tracks-
and climbing on the rocks and checking out the view of the river.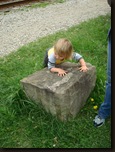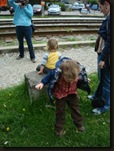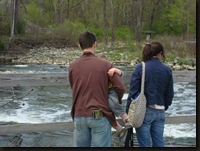 Then, after a ride back to Akron, and a car ride home to Copley, we had cake!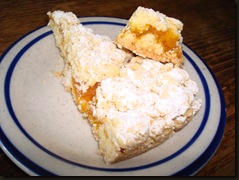 Actually a yummy torte.
Belgian Apricot Torte.
It is kind of crumbly- but so great with tea and low in sugar that we loved it!
Here's the recipe:
3/4 cup soft butter
1/4 cup superfine sugar
1 1/2 TBSP oil
1/2 tsp vanilla
1 egg, beaten
3 cups flour ( all purpose or pastry- I used pastry)
1 1/2tsp baking powder
grated rind of lemon
grated rind of orange
1/2 cup finely chopped dried apricots
1/2 cup apricot jam
confectioner's sugar for dredging
Line a 8 inch pan with baking parchment.
Beat the butter, sugar, oil and vanilla until fluffy, then add egg and beat well.
Sift the flour with the baking powder, and gradually work into the creamed mixture along with the grated rinds.
Knead together as for a shortbread dough. Divide in half, and coarsely grate one portion into the pan so that it covers the bottom evenly.
Beat the jam and apricots together and spread the mixture evenly over the dough- taking it right to the edges.
Grate the remaining dough evenly over the apricot layer and bake in a preheated oven at 300 degrees F for about 1- 1 1/4 hours, or until lightly browned and just firm. Remove from the oven and set aside until cold
Remove the torte from the pan and strip off the paper.
Dredge heavily with sifted confectioner's sugar.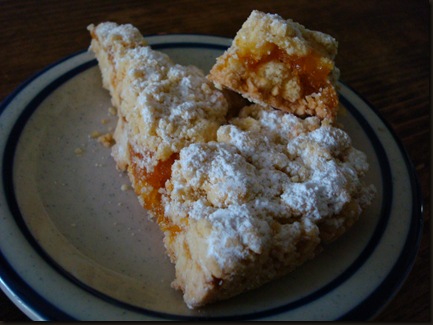 I was going to take a picture of the whole round- but we ate it before I could get my camera out. This is so easy to make- easy for kids to eat and just delicious.