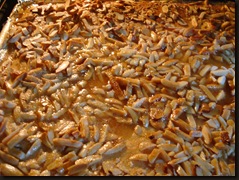 They sell these at Tulipan, a Hungarian pastry/bistro shop in Wooster.
ONLY, mine are better.
And that is not bragging- I add lemon and for some reason they don't, so mine taste sweeter and tangy-er and yummier.
This recipe makes a lot of bars- I cut them into bars and serve them with tea.
They are light and sweet and sticky and delish!
1 TBS yeast
1/4 cup warm water
1 tsp sugar
6 TBS butter
1/3 cup sugar
1 egg + 1 yolk
1/3 cup milk
1 tsp vanilla
1/4 tsp salt
3+ cups of flour
1 1/3 cups sliced or slivered almonds( reserve until after you put on glaze)
glaze ingredients
2 tsp. lemon juice
2/3 cup sugar
1 stick butter
1/2 cup honey
1/4 cup whipping cream
Method:
Proof yeast with warm water and tsp sugar. Blend sugar with butter until fluffy, add eggs and mix until it looks curdled, then mix in yeast mixture. Add milk,vanilla, salt and stir well. Then add 2 1/2 cups flour and stir until you have a very sticky, wet dough. Add last 1/2 cup of dough, and dump onto well floured surface and knead for about 5-7 minutes( you may add more flour as needed, but the dough should stay sticky and light).
Grease bowl, shape dough into a ball, drop into bowl, turn once to grease top of ball, and then cover with plastic wrap and let raise about 45 minutes.
Flatten into greased and foiled and greased jelly roll pan- Or you could put down parchment paper under the foil and only grease the top of the foil.
-raise another 45 minutes.
Whilst the dough is raising, put the ingredients for the glaze (EXCEPT
for the lemon juice) into a small pan and bring to a boil. Add lemon juice and let simmer for 5 minutes. Preheat oven to 375 F.
Now, when dough has risen slowly in jelly roll pan, pour glaze over top. It will pool up in some areas- that is normal- and spread almonds evenly over top.
Bake for 20 to 25 minutes at 375 F. until top is golden brown.
Remove from oven, allow to cool for 10 minutes or so, then remove from pan and cut into bars. OR- while still warm scatter white chocolate disks over top and when melted skim them over the top with knife spatula. Remove foil and allow to cool, then cut into 2 inch bars.