And for some reason- we always seem to be eating!
-En is enjoying a dish of ice cream and -An is finishing off his blueberry pancakes- YUMMY!
Yesterday, we made soft multigrain pretzels- Aidan helped me shape them and then he very graciously helped in the eating of them!
They looked and smelled wonderful…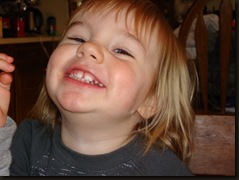 And they tasted even better! I got the recipes from a suggestion of another friend's blog. Jill mentioned them and we decided to make them -here's the link to the recipe– it says it makes 12 but we only got 9. And they disappeared to quickly it seems like we only got 5.
This morning we had blueberry pancakes-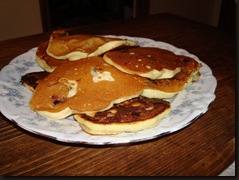 made with the berries Luke and Willow picked last July.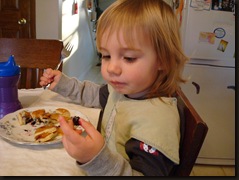 "What's this? Oh, a bloooberry!"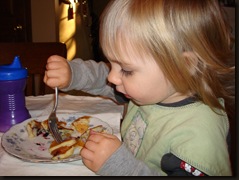 He ate his two pancakes- and part of Gramma and Gramps pancakes as well!
We've been kept busy with lots of fun things to do!
Lots of fun!
Lots and lots of fun!
Gotta go- much fun on the horizon!