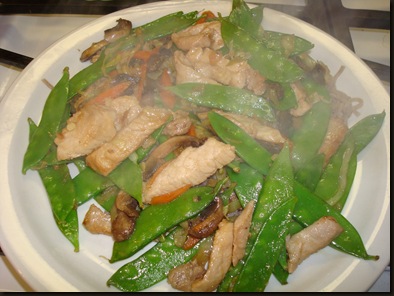 I Love Asian-style foods.
They are aromatic and delicious and allow me to incorporate veggies that Frank would otherwise not eat. And it is definitely not girly food!
Last night I made this for dinner and it was so good. And good for me, since soba noodles are made from buckwheat which is good for diabetics because of it's glycemic levels.
Meredith brought back the soba noodles when she came down in January. ( She also brought a great assortment of dark chocolates- but that is ALL gone!)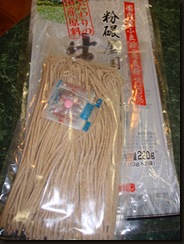 The instructions are all in Japanese. But I let the noodles "dance" in boiling water for 7 minutes and then served them with the pork and veggies and the sauce from the marinade. ( Does anyone know what I'm supposed to do with the little pink pill and small foil packet inside the cellophane wrapping? I wasn't sure, so I put it aside until I can identify the contents.)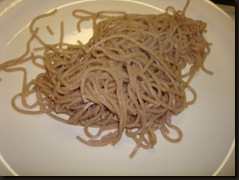 Anyway, they cook up a slightly grey and tan color and make a very nice base for the sesame pork and snowpeas.
Ingredients:
boneless pork about 1 lb.- I used 4 small boneless chops
1- 12 oz. pkg of fresh snow peas
4-6 scallions- chopped on the diagonal , white and green
12 oz. fresh mushrooms, cleaned and sliced
1 carrot or red pepper (for color)- sliced into slivers
2-3 TBS of sesame oil
a generous splash of olive or rice oil
sesame seeds
marinade-
1/4 cup sesame oil
1/4 cup golden sherry
1/8 cup olive or rice oil
1/4 cup soy or teriyaki sauce
1 minced clove of garlic
1 tsp. minced fresh ginger
Method:
Cut pork into thin pieces, cutting against the grain.
In a shallow baking dish, mix together the marinade and stir the pork into it, coating all the meat. Cover and put into fridge and let the flavors marry for at least 2-3 hours (or overnight, if you like a stronger flavor).
Slice and dice up your vegetables- you may want to cut the ends off of the snow peas, but it isn't really necessary.
Heat splash of olive/rice oil until you can see a slight shimmer and notice it just starting to smoke, then add the sesame oil and sear the pork quickly on both sides. Only work with a handful of meat at a time, so that the oil doesn't cool down or the meat will become tough. When seared through- the color will no longer be pink- transfer meat into a warm serving dish.
Now, add another splash of sesame oil and the scallions and carrot or red pepper. Stir until translucent ( the onions) , add the mushrooms and pour the remaining marinade over the vegetables and keep stirring.
Add the snow peas, cook until they turn a very bright shade of green (about 4 minutes) and then add the cooked meat and stir everything back together.
In a small skillet sautee about 2 TBS of sesame seeds into 1 tsp of oil until lightly browned. Sprinkle over the top of dish and serve over cooked soba noodles.
You may also heat up some soy sauce with a little sherry in it to pour over noodles- they tend to soak up sauce.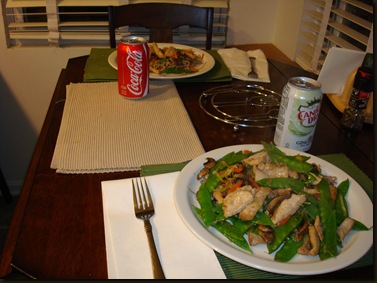 You can add a salad if you like- I just added a diet gingerale and a hefty portion of snowpeas! Yum! Yum! and again I say, YUM!