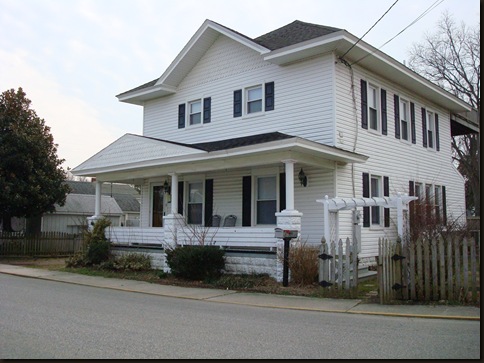 The Sailor's Rest- that is the name of Meredith's home here on Chincoteague Island, VA. It has to do with a historical movement associated with the Young Men Christian Association (YMCA)- started in the 1860's, Sailor's Rests were set up as places of respite for sailor's on land-places where they could stay and spend their time ashore that didn't include drinking and loose women.
When Meredith came back from Iraq, she was homeless in Hawaii for about a month- she didn't have any close friends based there at that time- and there were no vacancies in any apartment buildings that she could afford. Navy housing is reserved for families and enlisted and for a while she was living out of her Jeep.
So, when she chose this name for her home it was personal and meaningful- a place of respite.
Frank and I have been working for the past two weeks to clean, paint, stain and equip this house for the summer rental season. Admittedly, Frank has done the lion's share of the manual work- at best I have been an assistant and cleaning lady. Except that I have also been doing laundry and planning and preparing meals and doing all those things that keep a household moving along smoothly.
I've been making some of his favorite meals- Chili with fresh baked bread, Chicken Paprikas, Italian Sausage with tomatoes,peppers, and onions baked on sliced potatoes, Hamburgers with homemade potato chips, Mushroom and pepperoni pizza, fried chicken with biscuits, Liver and onions, Beef stew- do you get the idea, here? Heavy, meat laden meals interspersed with a couple of chef salad's and soups?
Today I decided to make a lunch that I would enjoy.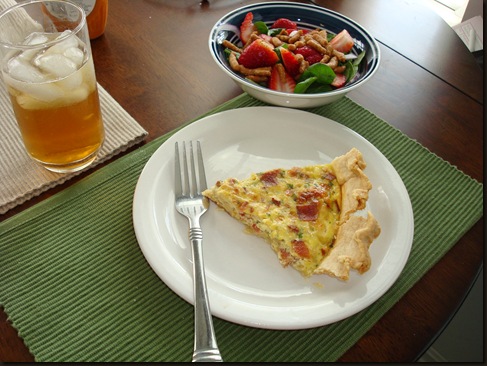 Bacon and spinach quiche with a spinach and strawberry salad topped with thin sliced red onions and honey roasted sesame sticks- YUM!
Right? YUM?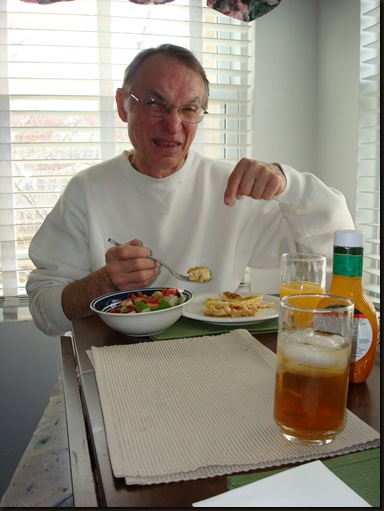 He said, " What is this? Did you make me a GIRLY lunch?"
He ate the quiche, then all the strawberries off of the top of his salad(not a spinach salad for Frank)

because strawberries do NOT belong on a salad according to Frank.
He wouldn't eat another slice of quiche so I got out the left-over liver- which I had tried to throw away-

and heated it in the microwave.
He was happy with the oatmeal-raisin cookies I made for dessert.
We are coming home on Sunday- I have couple more meals to prepare- there are still rooms that need to be painted. Tonight we are having Stir fry vegetables with pork and soba noodles- and maybe ice cream for dessert from the Island Creamery.
I sure wish I could cook some fish or clams- but Frank won't eat seafood.
Next time – I'm coming with less finicky eaters.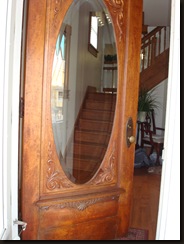 If you are in the area when I'm here- come for lunch- I would sure welcome some GIRLY lunch enthusiasts!