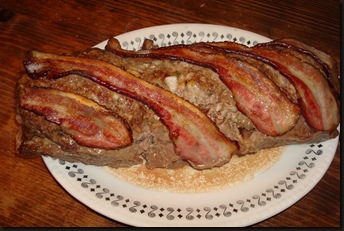 It really is quite lovely.
And the taste is just perfect.
Especially if you love Scotch eggs.
AND I DO!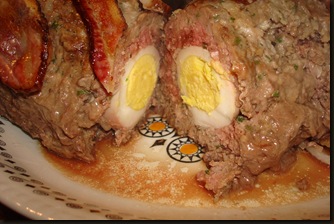 Nor only is it covered with bacon, but it is stuffed with boiled eggs!
And it is totally delicious.
I saw this on a blog from OZ and just decided to make it my own.
I was not thrilled with the recipe they offered, but the concept- I took it and ran!
So here is my adapted recipe for Scotch Meatloaf.
Ingredients:
1 lb. ground round
1 lb. ground pork
1 lb. ground chicken(or turkey)
1 onion, medium, diced
3/4 cup chopped parsley
1 tsp sea salt
1/2 tsp coarse ground pepper
1 cup bread crumbs
1 egg (raw)
1 tsp gravy magic or Worcestershire sauce
4 large boiled eggs, peeled
7 slices good quality bacon
Method:
Boil eggs- place in cold water and bring to boil. Cover with tight fitting lid and time setting for 20 minutes. Then pour out hot water and immediately immerse eggs into cold water. You want them to cool off as soon as possible.
Boiling the eggs in this way insures that the yolks will not turn color and that the shell will release easily without tearing up the egg.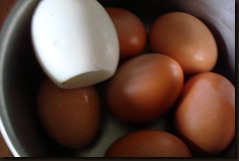 Peel at least four of the eggs and set aside.
Mix together the first 10 ingredients in a large bowl.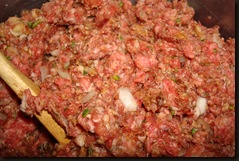 You can use a strong wooden spoon- or just wash your hands well and mix together with your fingers. Either way- make sure everything is well mixed- the best meatloaf needs a thorough amalgamation of ingredients.
Optional: you may wish to add a bit of sage or fennel seed to the mix if you want a more sausage flavor. I didn't and it turned out very well- but I think it would be fun.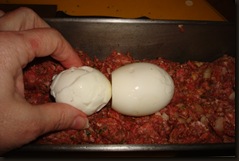 Now- divide the meat in half and put the first half into the bottom of your loaf pan and make an egg size trough down the center. Put the eggs into the trough next to each other in a line.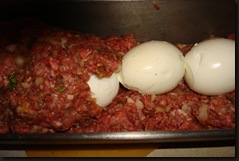 And then, using the other half of meat, cover the eggs and pinch the sides together so that it is a solid loaf of meat.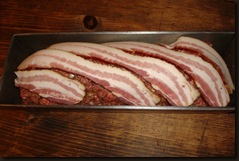 Cover with thick slices of bacon and bake for at least an hour at 375 degrees.
I covered the top for the baking time and then turned the oven to broil and uncovered the loaf so that the bacon could crisp.
Broil another 5 minutes- until bacon looks crisp enough for your taste.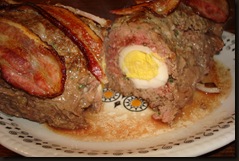 This is a recipe that you will make over and over again, if you like meatloaf and eggs and bacon.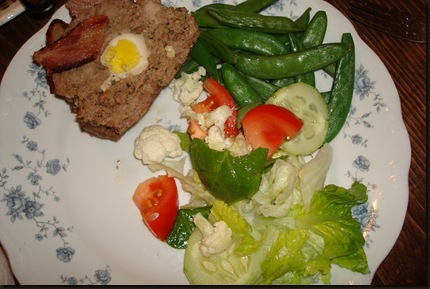 Add a salad and some sugar snap peas-
And dinner is served!