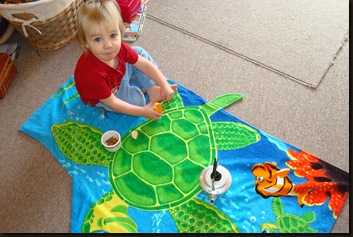 I told you about the tea we had at The Sailors' Rest.
And I showed you pictures and shared the menu and a recipe.
Here is another tea I went to recently, in Columbus.
Meredith bought Aidan this great turtle towel at Pony Tails in Chincoteague.
She bought him a HUGE stuffed turtle in Hawaii and he loves it, so when she saw this towel she just picked it up and bought it!
And Aidan loves teapots! Really, really loves them.
So we found him an aluminum teapot and added some Asparagus biscuits and you have a tea party.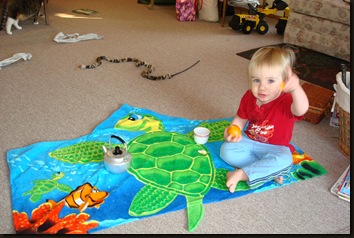 Did I forget to mention how much he loves to peel Clementines?
So- towel, tea, biscuits and tangerines.
These all added up to a great tea! Especially when you add Aidan, Grandma and Willow to the equation.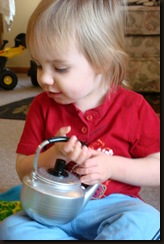 Because we had a LOT of fun.