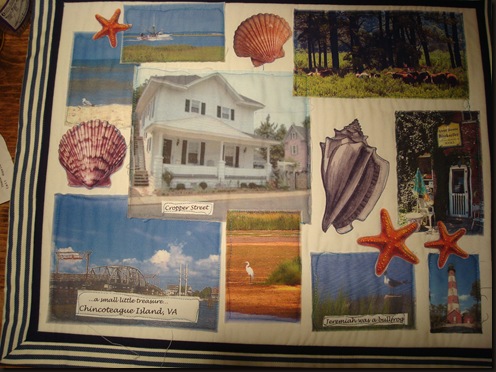 My friend, Patty, is a quilter and she made me this art quilt of Sailors Rest in Chincoteague. I love it! I love when someone MAKES something just for me!
It is such a compliment and an act of love. I know, because I quit buying gifts years ago. Occasionally I will buy something if it is exactly perfect for someone, but just buying so that I can give a gift? -no.
Anyway, Luke and Willow, Aidan and I are going to Chincoteague on Monday.
Frank and Jordan will come down a couple of days later. And we will be spending Christmas in Chincoteague! That is why I'm on a baking frenzy now, so that I can take stuff down and give gifts to neighbors and friends before we go.
I would love to have you all over for Christmas Eve Tea, someday. Robin and I started a tradition of having a gourmet tea and sharing a literary reading or music on Christmas Eve afternoon. It was filled with good will and good food and good books… but we have held off from celebrating with the Tea for the last two years because we were burnt out and people were busy or out of town.
But I've been thinking a lot about this and maybe next year, we could have a Christmas Tea for all of you in the local area . It is truly a blessing to share a hot cuppa and a greeting from the heart along with a beloved text with dear friends.
I haven't made or sent out Christmas cards this year. I've been busy, distracted and sick- but I plan to send out after Christmas cards while I'm in Chincoteague.
So, I'm wishing you the Merriest of Seasons and the most Holy of Christmas Celebrations.