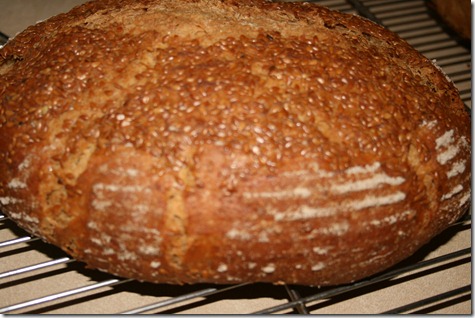 I was looking for a good rye bread yesterday.
I had depleted my freezer supply.
Run out of the last baking I did in Chincoteague.
And I just can't buy the insipid loaves they sell at the stores locally.
I went to the bulk food store to buy some flour,
and all they had was a very fine white rye flour.
Sad. SAD. downright sad.
So I bought some rye berries-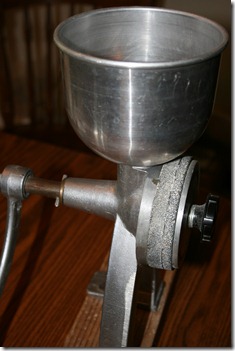 got out my grinding apparatus-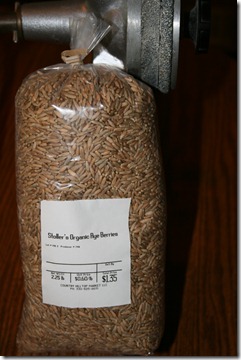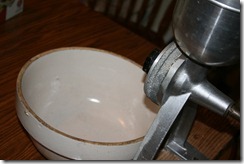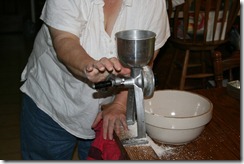 And ground my own dark rye flour.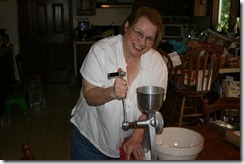 The little red hen hasn't got anything on me!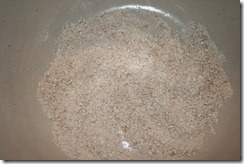 It took a little while because my grinder is
almost as old as I am.  And it is done by
hand- and I didn't have it clamped down on
my husband's new table.
But I ended up with almost a cup and figured
that would give me enough fiber and texture
in my loaves.
Then I fed up my sourdough and added 1 cup of
the white rye and 3/4 cup warm water and let that
prove overnight.
At the same time, I followed Joanna's advice,
and poured hot water on another cup of white
rye and stirred until smooth and then left with
the sourdough starter poolish/sponge to prove
for at least 8 hours (overnight).
This morning I added the rough ground flour, 2 tsp.
sea salt, 2 TBS butter, and 1/4 cup sorghum molasses
and enough water and high gluten wheat flour to
give me enough dough for 2 loaves of bread.
I put the dough in a warm place to raise for an hour,
then shaped it into two loaves- one for the banneton
and one in a loaf tin, covered them loosely and then
let them raise another hour and a half.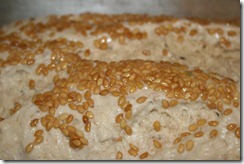 I added some golden flaxseed for flavour and
beauty and made the mistake of cutting a vent
in the top.  I think it destroyed the integrity of
the gluten cloak and the loaf got sloppy in shape.
Then I baked them a 375 F for about 45 minutes.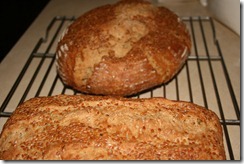 Although I'm not entering them into a beauty
contest.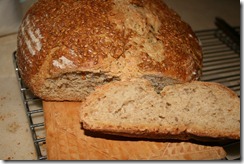 And I sliced it for a crumb shot before it cooled
completely.
All in all, I am quite happy!
I love rye bread with golden flax seed.