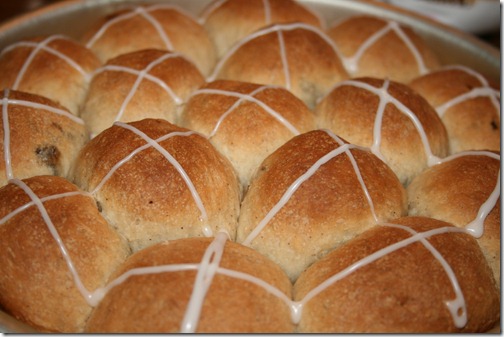 I know it's a little early- if you are following the church calendar,
but I haven't baked anything recently and that is very hard on my feeling
of well being.  ( So is sciatica, but this is on a different level of pain.) 
I need to have some dough raising somewhere to make me feel whole.
And these made me feel a whole lot better! 

I really didn't follow a recipe-
I boiled a small potato, mashed it up and added 1-2 tsps of yeast when the water
cooled sufficiently.  Then I added 1/2 cup sugar and stirred it up and let the whole pan
rest to proof the yeast.
I added enough flour ( 3 to 5 cups) to get a stiff dough, 1 tsp of salt, and 1 tsp of cinnamon
and 1/2 cup soft butter and kneaded it all together.
I chopped up a slice or two of crystallized ginger and  cup currants
and added them at the end of the kneading process, so they were incorporated in the dough.
Then- I went to the couch to rest my sore leg and back for about an hour or so.
(After putting the dough in an oiled bowl and covering it.)
Then after the dough was almost doubled in size, I rolled it into small balls of uniform
size and placed them in a round cake pan.  Allowing it to raise for another hour and a half-
and then baked them at 350 degrees F for about 30 minutes.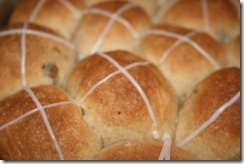 Then I let them cool and mixed up some icing
sugar and half an half and drizzled crosses on each bun.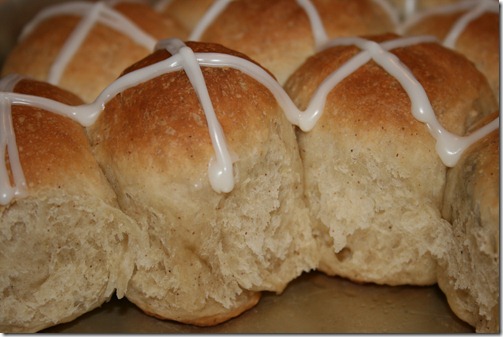 Delicious and perfect for both the tummy and the soul!
Hot Cross Buns!