I love these posts-
they are an opportunity to share:
-little stories about the origin of items
-the generosity of others
-cautionary tales about the use of some gadgets
-instructions on the use of odd or seldom used stuff.
Today I'd like to highlight the tops of my cupboards.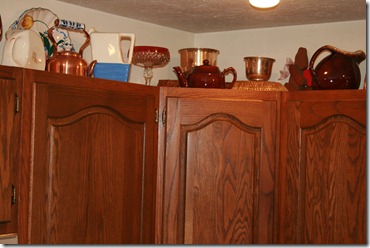 I am short.
The tops of cupboards is a place I very rarely venture.
I need a ladder to get there- and yet when I look up there I want
to see something other than a bare wall (with cobwebs).
And so, over the years, I have filled this space with bits of pieces
that mean something to me.
Some of these things I've picked up in antique stores, but more
have been gifts- some of them created especially for me.
And so, precious.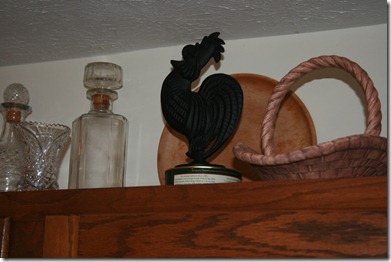 Here I have glass decanters and  vases that came from my mother's
cache of stuff.  Nothing of great value- except that I grew up with
it and couldn't bring myself to throw it out after her death.
The wooden platter is a part of my collection of treen- or handcrafted
wooden pieces.  The basket is a ceramic piece my mother made and
gave me.  And the cast iron rooster?  I liked his cocky look at a local
antique store.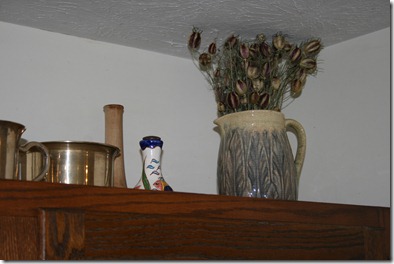 The brass cup and bowl are from an antique store as well, but the
brass candlesticks that started my collection were from my mother-
to my sister- and on to me.  The wooden vase was made by my brother,
the vase came from my niece- a gift from her travels in Europe- and the
pitcher a gift from an old friend.  I love the look of lambs ears in grey and
green.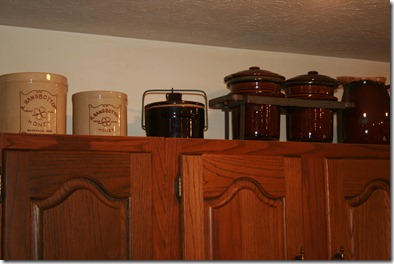 These clay crocks are used most frequently from  the collection.
They hold coney sauce and baked beans- honey and herbed butters-
sometimes soups and dips.  I like crocks- they retain heat and are
homey and useful.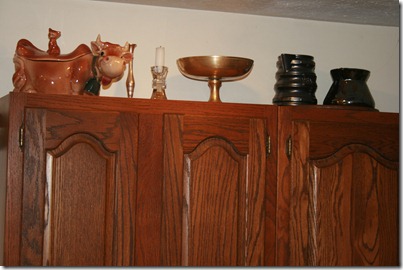 This cookie jar is a collectable that was given to me by an old friend.
I LIKE cows, and cookies, and collectibles, especially the McCoy ceramic
pieces.  The candlestick was a gift from my brother – the brass piece came
with a lovely arrangement of flowers, the pitcher was from a set that
included a syrup pitcher and a bag of pancake batter, and the last pitcher
was stained and glazed by my mom.
So – when I look up in my kitchen- I am greeted by the memories and
love of friends and family.  I am home.