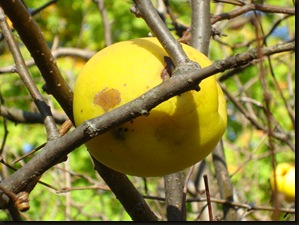 I picked them several weeks ago.
And they didn't look very good then.
And then- life got very busy.
I was preoccupied with knitting.
Mainly socks- but a couple of cosies got into the basket as well.
And then the baby was born- and I got to be resident Grandma most of this week!
So when I came home today, and smelled a sweet and earthy smell in my kitchen- I found this basket of wrinkly quinces.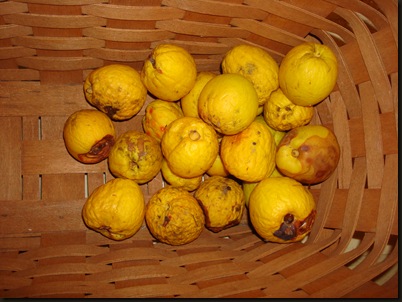 -wrinkled and browning-
Which I intend to make into pickled quinces, tomorrow.
Here's the recipe Robin and I found at least 16 years ago- in hopes, someday of having a bumper crop of quinces.  We never did.  So we never made it.
This is the year of the pickled quince!
Ingredients:
6-7 quinces
15  fluid oz. cider vinegar
1 1/2 lbs sugar
rind of one lemon
3 whole cloves
2 cinnamon sticks
1 inch piece of ginger root
1 allspice berry
2 vanilla beans
Method:
Put the vinegar, sugar and lemon rind into an enameled saucepan.  Wrap the spices in a muslin/cheesecloth bag and add to the pan.  heat until sugar dissolves, cover and simmer10 minutes.
Peel and core quinces and quarter.  Add them to the pickling juice.  Simmer for about 1 hour, or until quinces are soft but still hold their shape.  Cool in the liquid.  Strain quinces and place in a clean preserving jar.  Bring the liquid to a rapid boil and cook until reduced by half.  Pour over the fruit which should be completely immersed.
Place the 2 vanilla beans in the jar and cover tightly.
Keep a month before using.
I'll let you know how they turn out.
Does anyone know what you use pickled quince for?  I'm thinking it would be like an appetizer, something akin to watermelon rind pickles.
I wish I remembered WHY we were so anxious to make these.
They sure have a lot of good spices in them.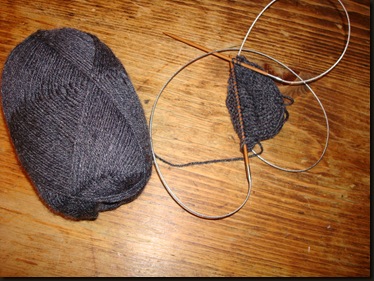 I want to get them done so I can go back to these socks-
bamboo and wool in a charcoal grey!
———————————-UPDATE———————————————–
The quince was really a pain- most of it was thrown away!  But I ended up with two small jars and I'm happy with that!
And I made soup from a link Celia had on her blog- Fig Jam and Lime Cordial.
I can't figure out how to put up the link from this update area, but look on the blog list on my sidebar
and you will find her!
I love this soup- I lost my recipe I had been following before!  And I just discovered this has a great
glycemic index for diabetics!  Yes!  I love it when a plan comes together! (cue A-Team music)