Halfway down the stairs
Halfway down the stairs
Is a stair where I sit:
There isn't any other stair quite like it.
I'm not at the bottom,
I'm not at the top:
So this is the stair where I always stop.
Halfway up the stairs
Isn't up, and isn't down.
It isn't in the nursery, it isn't in the town:
And all sorts of funny thoughts
Run round my head:
"It isn't really anywhere! It's somewhere else instead!"
(A A Milne)
I love this poem by A.A. Milne!
When I was a little girl, we had a record with this song on it and I fell in love with it and him, then.  I have always been a halfway down the stairs kind of girl!
I was mentioning this poem to a friend once, and she said, " Oh , you mean that Muppet song that the little frog sang on The Muppet Show?"
NO- I mean the A.A. Milne poem that he wrote for his son, Christopher Robin!
Here's some pictures of my grandson sitting halfway-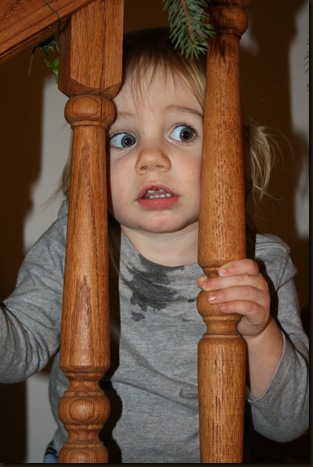 And here is the muppet version of A.A. Milne's poem.
I just found this version by Ricky Gervais- let me warn you it IS a little creepy.