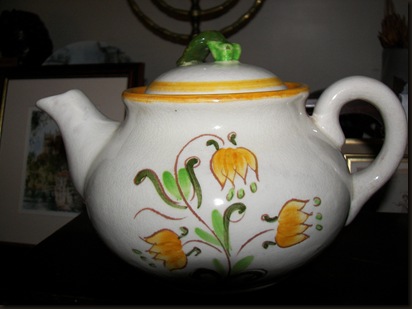 Oh, loveliness incarnate, especially
round the spout,
Divinest that ever poured
afternoon tea out!
Thy form embodies beauty, yet thy
base is balanced, too,
Small wonder that my heart is
caught and held by your brew!
You did not cost my savings and
undoubtedly you're good;
Your children, too, the cups and
plates, I welcome as I should!
There's breed, my dear, about you,
flush of colour I adore.
And yet, you know, I picked you up
in a famous store.
Each time we part I pray, sweet, as
your countenance is hid, That never
shall I hear those words, "Please
mum, I've smashed the lid!"
THE SHELLEY STANDARD
March 1930