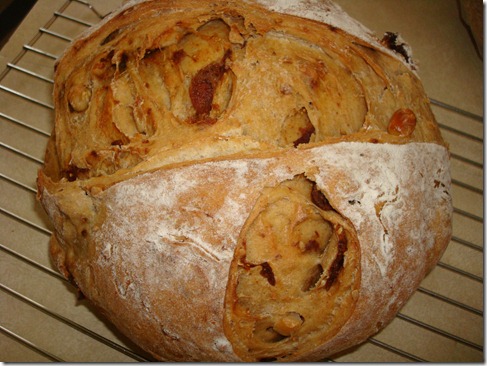 ,
My friend, Joanna, posted this bread on her blog , Zeb Bakes .
Only hers looks a lot better than mine.
It is so very good.  I kind of fudged on her recipe, because it is in grams and I 
am a firm believer in cups and ounces, tablespoons, and  Farenheit temperatures.
So this is my recipe.
3 cups bread flour
2 cups whole wheat flour
1/2 cup rye flour
1 or 2 TBSP soft butter
2 tsps sea salt
1 1/2 cups warm water
2 tsps yeast
1 1/2 cups of sliced dried figs
1 cup partially chopped hazelnuts
1 TBSP fennel seed
(optional- 1/2 tsp finely minced rosemary)
Mix together flours and salt.  Make a well in the center of the flour and
pour water and yeast into the well.  Mix the yeast (add 1/2 tsp sugar, to get it started)
and let it sit for a couple of minutes to prove the yeast.
Add butter and mix well, adding warm water to get a pliable dough- up to 3/4 cup more.
When the dough is well mixed, add the figs, hazelnuts and fennel.
Knead for about 10 minutes and then place in a well greased bowl and cover.
Let this raise for about 2 1/2 hours- poke it with your finger to make sure it is flexible.
Shape into a ball and place into a bowl that has a piece of parchment paper molded into it.
Raise for another hour and a half-preheat oven and cast iron kettle to 425 degrees F
and then carefully lift edges of parchment paper and place entire dough into kettle and
cover with a lid.  Bake for 25 minutes with lid on- then lower the heat to 375 and take off
the lid and bake another 20 minutes.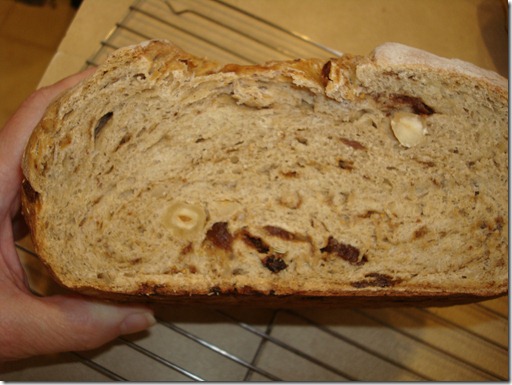 It is great with butter, or toasted, and today we had ham sandwiches with it and they
were magnificent.