I just finished washing half of the dishes and while I'm waiting for them to air dry so I can put them away and finish the other half, I thought I'd come and post a recipe.
I'm not sure if I've given you this recipe before. Even if I have, I can't find it and so it might be lost in my in-between blog archives. And this is such a great soup- comforting and smooth with just a little heat and lots of vegetables.I'm going to repost it because I think you should HAVE this recipe!
You can start off by making your own stock with a whole chicken, 3 slices of fresh ginger root, 1 stem of lemon grass, 2 large ribs of celery, 2 large carrots and a large onion- sautee the chicken in 2 TBS of olive oil, add veggies and 6 cups of water, salt and pepper to taste. Cook down until chicken is done, and veggies are soft. Then discard the veggies and tear the meat off of the bones. Put broth in the refrigerator and cool. When the fat congeals at the top of the pan, throw it away ( the fat, not the stock ) and add a couple of chicken bullion cubes for a richer flavor.
Now you need to dice or chop up some more vegetables.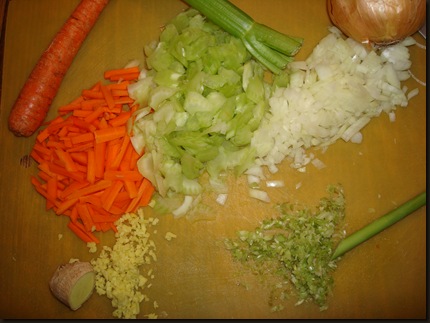 To make this soup look as good as it tastes, cut your vegetables in an uniform size and slice them on a slant. Chop, slice and dice up the same vegetables you discarded and in the same amounts.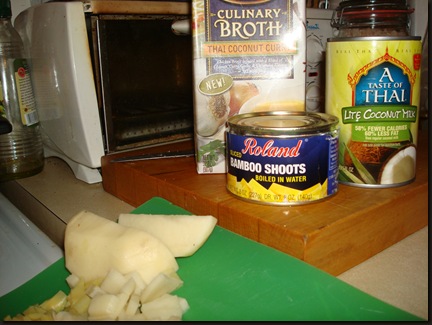 Add a potato sliced thin and small. As you can see, I totally cheated and used a Thai Coconut Curry culinary broth. This works well too and you can forget about making your own stock.
Either way, at this point you need to cutup 2 chicken breasts (if cooked- don't add them until your vegetables are sauteed.) if raw, sautee them in 3TBS of olive oil and season with about 1 1/2 tsps of curry powder. Add vegetables and sautee all together for about 15 minutes. Add broth and simmer another 30 minutes.
Chop up a small can of bamboo shoots, and partially cook some medium sized noodles to add to your soup.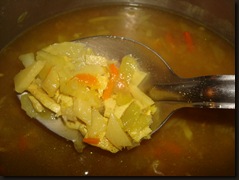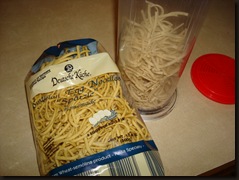 And then let the whole thing simmer for another 30-45 minutes.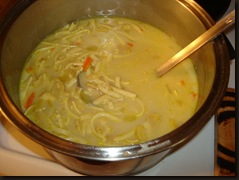 Now add the Lite Coconut Milk and simmer for at lest 10 minutes more.
You can add the juice of 1/2 lemon if you like it a little more sour. Salt and pepper to taste and serve with a good crusty bread and a green salad.
I really cannot tell you how very good this soup is – you have to taste it for yourself. My d-i-l Willow first made it for me when they were still in college- and I've been making it ever since. Try it- you are going to love it!